Telephoto Micro 4/3 lens Reviews
Friday February 10 2012
Lens Review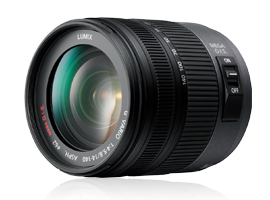 Here are the results for the Panasonic Lumix G-Vario 14-140-mm F4-5.8 Mega OIS, a zoom that can come in very handy because of a focal range that starts at a wide angle of 14mm and goes up to 140mm (equivalent to 28–280mm for 24X36mm and 18–182mm on an APS-C).
Released in Mars 2009, the Panasonic Lumix G-Vario 14-140mm F4-5.8 Mega OIS is the first Panasonic super-zoom produced expressly for micro 4/3 sensors. However, the choice of lenses in this category for owners of micro 4/3 cameras is very small - in fact, even now the only viable alternative is the Olympus M.ZUIKO DIGITAL ED 14-150mm f4.0-5.6.
Still, let's take a look at what our DxOMark tests reveal about this Panasonic lens: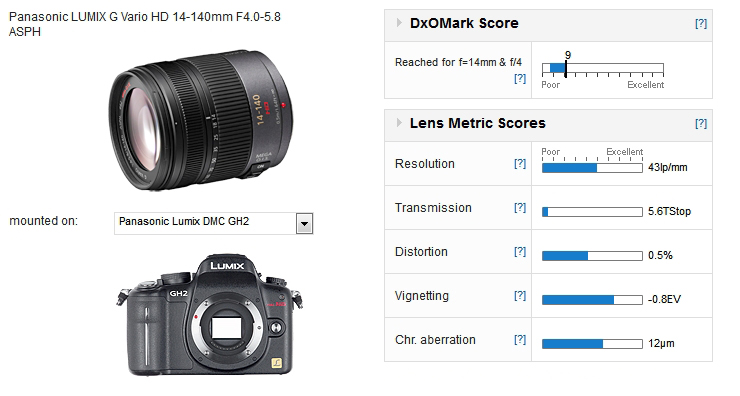 | | |
| --- | --- |
| The pros | The cons |
| The resolution is decent for this type of zoom (43lp/µm) | Poor transmission, and thus not a very bright lens (5.6 T-stop) |
| The vignetting is fairly well controlled (-0.8EV) | Significant distortion at wide angle (14mm) |
| Chromatic aberrations, while present, could have been much worse (12µm) | High price |
| A wide focal range (14mm–140mm) | |
Comparison
Now here's an interesting comparison: Panasonic Lumix G-Vario 14-140-mm F4-5.8 Mega OIS vs Nikon AF-S DX VR Zoom-Nikkor 18-200mm f/3.5-5.6G IF-ED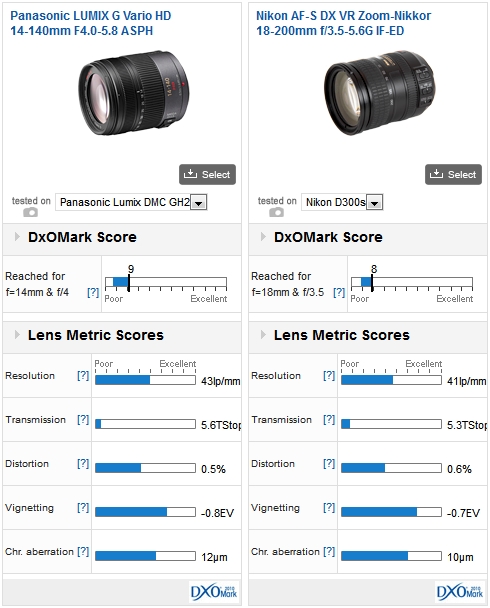 The Panasonic on a micro 4/3 and the Nikon on a APS-C are comparable because it turns out that a 14-140mm on a micro 4/3 is equivalent to a 18-182mm on an APS-C. It was only when we made this comparison that we realized just how similar these results are. However, the Panasonic wins because it has better resolution (43 lp/mm vs. 41 lp/mm), and though the distortion for both lenses is quite weak, the Panasonic is also ahead here (0.5% vs. 0.6% for the Nikon).
Conclusion
So here is an all-purpose, relatively compact lens. It does everything "OK" just like the other super-zooms that we've been able to analyze up to now. Still, for those who want to shoot freehand and without flash, be careful — this lens simply isn't bright enough.
One other interesting point: in addition to being more compact, the Panasonic Lumix G-Vario 14-140mm F4-5.8 Mega OIS mounted on a micro 4/3 sensor is on par with an equivalent lens mounted on an APS-C!
For those who would like more information about super-zooms, here are some of our previous reviews:
Further readings for the Telephoto Micro 4/3 lens Reviews
To provide photographers with a broader perspective about mobiles, lenses and cameras, here are links to articles, reviews, and analyses of photographic equipment produced by DxOMark, renown websites, magazines or blogs.
---