The Sigma 18-200 mm f/3.5-6.3 DC OS HSM II: A new stabilized super-zoom
Thursday February 23 2012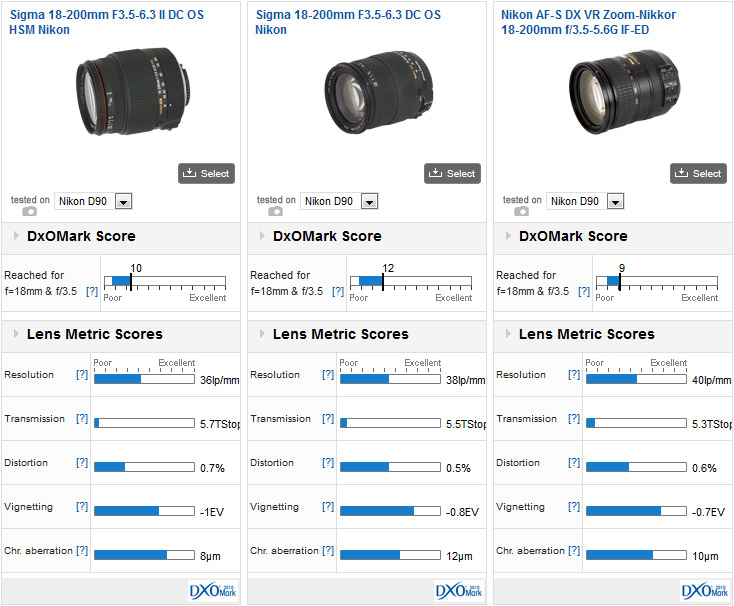 On a Nikon D90, the DxOMark scores are very close, with 10 and 12 points for the Sigmas, respectively, and 9 points for the Nikon. So the Sigma lenses stay in the lead.
The advantages of the Sigma 18-200mm F3.5-6.3 II DC OS HSM:
Better correction of chromatic aberrations.
The most compact.
The lightest.
Better quality-to-price ratio.
The advantages of the Sigma 18-200mm F3.5-6.3 DC OS:
Better correction of distortions.
The least expensive.
The advantages of the Nikon AF-S DX VR Zoom-Nikkor 18-200mm F3.5-5.6G IF-ED:
The best resolution.
The brightest.
Better control of vignetting.
Further readings for the The Sigma 18-200 mm f/3.5-6.3 DC OS HSM II: A new stabilized super-zoom
To provide photographers with a broader perspective about mobiles, lenses and cameras, here are links to articles, reviews, and analyses of photographic equipment produced by DxOMark, renown websites, magazines or blogs.
---
Lens Review
|
February 23, 2012
| | |
| --- | --- |
| | Sigma announced this new version of its very large focal range zoom at the beginning of October 2011. Let's see how this new version compares with its predecessors and competitors. |
---
Lens Review
|
February 10, 2012
| | |
| --- | --- |
| | Not too long ago, people assumed that choosing a micro 4/3 camera was the same thing as choosing a more versatile compact camera. Then the happy owners would start thinking about getting a zoom lens for this small camera and discover that… the zooms were nowhere near as compact as their camera. What they ended up with was not as pocketable as they hoped, but unfortunately, there are scientific optical laws that can't be changed. The lenses tested here are good examples of just how compact lenses with large focal ranges can be. |
---
Lens Recommendations
|
June 10, 2011
After the Tamron 18-270mm and Sigma 18-250mm reviews, the DxOmark team offers you a series of short reviews for the 18-200mm lenses tested on our website:

For summer 2011, DxOMark delivers its super-zoom, all-in-one selection for Canon and Nikon.
---