Wide-angle micro 4/3 lens reviews
Wednesday March 28 2012
Lens Review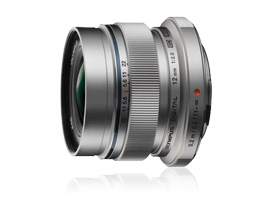 Olympus M. Zuiko Digital ED 12mm f/2.0: standalone results
The first test results for the M. Zuiko Digital ED 12mm f/2.0 seem to indicate that that is indeed the case: a very satisfactory DxOMark overall score of 19 and a specific resolution metric of 53 lp.mm — a real success for Zuiko.
Let's dig a little deeper into the details — but first, a word up-front: PEN users will be disappointed with this review, because we are going to analyze the Zuiko Digital ED 12mm f/2.0 on a … Panasonic camera. No, we certainly haven't forgotten the Olympus line, and we will be publishing the results for all PEN cameras (EP1, EP2,EP3, EPL1, EPL2 and EPM1) very soon. But while we're waiting for the Olympus OM-D to become more widely available (and for its DxOMark test results), the Panasonic GH2 has the best resolution metrics for this lens type, so….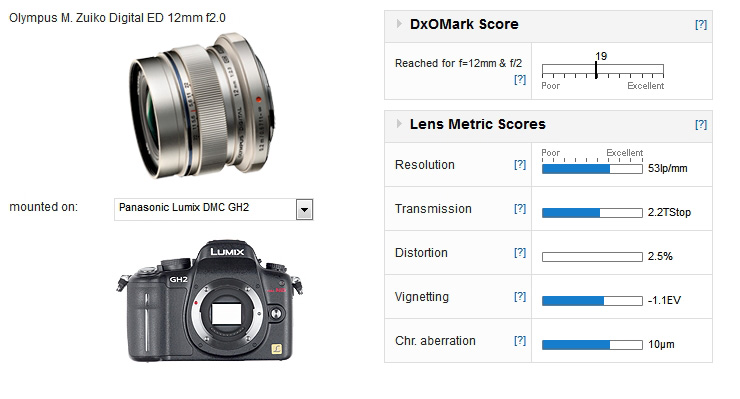 | | |
| --- | --- |
| Strong points | Weak points |
| Remarkable sharpness: The resolution attained at the center is very high (see graph below). It is still worth noting, however, that the resolution drops significantly in the corners, even at f/5.6 or f/8. | Significant distortion (2.5%) will almost certainly require using software to correct. |
| A bright lens. | |
| Weak vignetting (starting at f/2.8). | |
| Chromatic aberrations are well-corrected for this type of lens. | |
Wide Angle comparison: APS-C vs Nikon 1 vs 4/3 sensor
With its DxOMark score of 19, the Olympus 12mm is in first place on the podium; the Canon 24mm on a Canon EOS 7D, with only one point less, is in second place.
With only 8 points, however, the Nikon 1 10mm scarcely seems to merit a place on the podium at all. This said, it's important to note that there simply isn't a broad selection of lenses for the Nikon 1 line, and the 10mm just isn't bright enough to be able to compete with this much brighter 12mm lens. (We keep hearing that more lenses for the Nikon 1— specifically, brighter lenses — will shortly appear… but we're still waiting for confirmation.)
Bottom line for this comparison: The 12mm has great resolution, and even manages not just to hold its own against the 24mm 1.4 L-series lens mounted on a Canon 7D, but to beat it!
Superior maximum resolution.
Better correction of chromatic aberrations.
Better quality-to-price ratio.
Brighter lens.
Better distortion correction.
Better control of vignetting.
Conclusion
With its extraordinary sharpness for a micro 4/3 lens, the Olympus M. Zuiko Digital ED 12mm f/2.0 is a winner.
Pitted against the Nikon 1 NIKKOR 10mm f/2.8, this Olympus 12mm holds an overwhelming advantage. Even more impressive is the fact that this lens can compete with much bigger lenses, such as the Canon 24mm L-series mounted on a 7D.
In short, it really does seem that a high-quality, fully micro 4/3 camera-lens combination is perfectly capable of replacing an APS-C combination — and the Olympus M. Zuiko Digital ED 12mm f/2.0 is a particularly high-quality micro 4/3 lens!