Wildlife Lenses: telephoto-zoom round up
By Kevin Carter -
Wednesday February 13 2013
Lens Recommendations
Wildlife lens quality compared with the whole database
A quick glance through a couple of makers' catalogues (or our database) will confirm the plethora of 70-300mm f/4.5-5.6 zoom lenses available. These aren't particularly fast, and while there are a number of 28-300mm f/3.5-5.6 lenses, the variable maximum aperture will likely be in the same f/4.5-5.6 range over the 70-300mm focal lengths, so there's nothing to be gained in speed (brightness) for available light.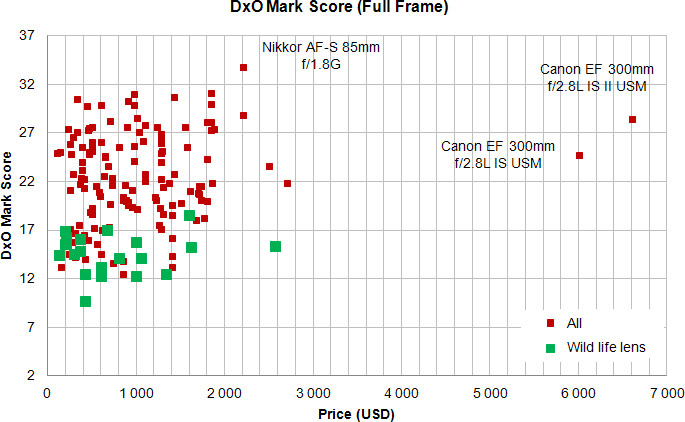 We can see from the DxO Mark Score results for our whole lens database plotted on the graph above that, even for primes, it's very difficult to achieve the same image quality at 300mm than it is at shorter focal lengths. As an example, take Nikon's two recently introduced 85mm lenses. Both have a higher DxO Mark score than the new $6,600 Canon EF 300mm f/2.8L IS USM (we've yet to assess the Nikon AF-S NIKKOR 300mm f/2.8G ED VR II). In fact, the pricey $2,000 AF-S Nikkor 85mm f/1.4G was recently ousted by the newer, cheaper AF-S f/1.8G version.
For those that are interested, we've adopted the DxOMark Score system instead of the recently introduced P-MPix metric, as that's calculated under optimal/ideal shooting conditions. DxOMark Score, on the other hand, is measured according to our low light scene (150 lux and an exposure time of 1/60thsc), a more realistic metric for lenses intended for capturing elusive wildlife.
As the DxOMark score is an average of the whole focal range, zooms with a wide-range could be artificially higher in the ranking. For wildlife, the image quality at 300mm or greater is what we're particularly interested in, but as images may be captured at any focal length, we believe the average DxOMark score is still relevant for ranking one lens above another. Even so to see how a particular zoom lens performs at a specific focal length, then the reader should check the DxOMark score map.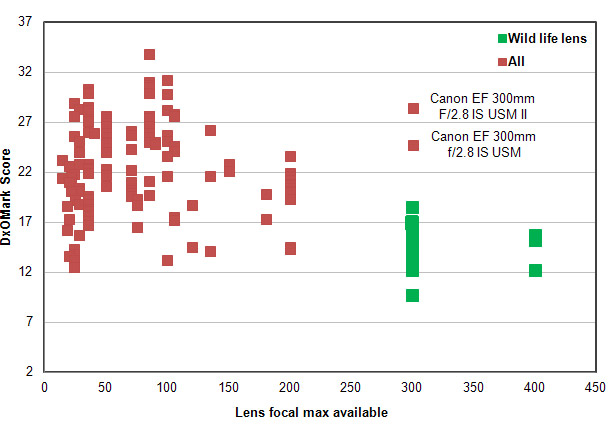 The difference in image quality of zooms, and even primes, tails off with an increase in focal length. Incidentally, with a very good score of 18, sitting at the top of the green 'column' at 300mm is the Pentax smc DA Star 300mm f/4 ED IF SDM telephoto.
If money is no object, then the Canon EF300mm f/2.8L lenses easily outperform the more versatile 70-300mm f/3.5-5.6 zooms, and can be paired successfully with 1.4x and x2 teleconverters, or extension tubes (to reduce the minimum focus distance) adding to the flexibility. Adding teleconverters to 70-300mm f/3.5-5.6 lenses is possible but with the loss of one to two stops, autofocus operation is likely to be impaired or even impossible. The other downside is the effect teleconverters have on image quality. At 300mm, the optical performance of telephoto zooms will be at its lowest, and adding a teleconverter, or multiplier will only make this more noticeable. Our graph above shows the results for full-frame cameras, but APS-C cameras deliver slightly lower scores, however the ranking is very close.
Comments
First replies for this comment
---
Minor corrections to list

Hi DxO,
Just some minor notes/suggestions regarding your "Other lenses that are not yet included in our tested database but should also be considered include" list:

The Canon EF 100-400mm f/4.5-5.6L IS USM and Canon EF 400mm f/5.6L USM are each listed twice.

Both the Nikon 80-400mm f/4.5-5.6D ED VR AF (listed but with no hyperlink) and the Nikon 80-400mm f/4.5-5.6G ED VR AF-S (not listed) have been tested:
http://www.dxomark.com/Lenses/Nikon/Nikon-AF-VR-Zoom-Nikkor-80-400mm-F45-56D-ED
http://www.dxomark.com/Lenses/Nikon/Nikon-AF-S-NIKKOR-80-400mm-F45-56G-ED-VR

Maybe lenses already tested could be moved into the "Lenses that fall firmly into this particular category in our test database include" list.

Thanks guys, you do a fantastic job :)



Reply | Read all replies for this comment
First replies for this comment
---
DxO Mark for Nikon 300f4 (plus TC-14E) and Canon 400f5.6

Thanks DxO team for this great collection! I am a keen bird photographer, so it is highly relevant.

Two VERY important lenses are missing from a keen amateur/portable professional view. There are no DxO marks on the AF-S Nikon 300mm f/4 - almost always paired with a TC-14E ii by nature photographers - and for Canon users, the Canon 400mm f/5.6L.

Almost without exception the long telephoto zooms are not sharp at the long end (400-600mm) where amateur bird photographers are interested. The few exceptions are pricey (like the Nikon 80-400 f/4.5-5.6G) or out of reach of most amateurs (the Nikon 200-400 f/4). Some reviewers (eg Nasim Mansurov at Photography Life) even recommend the Nikon 300f4/TC-14E combination above the Nikon 80-400 f/4.5-5.6G.

I would dearly like to see you DxOMark the 300f/4 alone and in combination with the TC-14E ii - a popular combination seen as sharp and often used after amateurs who have given up on their third party telezooms reaching 500mm to 600mm after realising they are not sharp!

In anticipation...


Reply
---
Miss some...

Hey guys,

What is alway the thing with this tests, which is a lot of times lately.
It looks like you guys have already favorites and push the 'test' in a direction.
Why al these really old rather crappy Tamrons? I mis the best ones! The VC versions are a lot better then these old versions of 2000 and 2004! Even if the have stabalisation and sometimes it does not work well because of the tripod or fast shutters speed, keep in mind you can always switch them off...

Then i mis a really versatile lens, the Sigma 50-500 OS HSM if you guys talk about reach in the intro you really have to put this one in the test because it has an amzing reach.
Also consider testing some of the faster lenses with tele converter.

I understand thatbit is a lot more work but with this short list I think you don't give the whole thing an objective look for readers.

Regards
Arend


Reply | Read all replies for this comment
First replies for this comment
---
First replies for this comment
---
First replies for this comment
---
Added by

Cris57

| March 07 , 2013

80-400

Bonjour. La nouvelle mouture du zoom 80-400 de Nikon, vient de sortir. À un prix exorbitant ! Plus de deux fois le modèle précédent ! Dans le même style que votre comparaison 70-200 f4, 70-200 f2,8 Nikon et Canon, je serai extrêmement intéressé par une comparaison des deux versions du 80-400 Nikon (ancienne et nouvelle), avec le 100-400 Canon.
Merci d'avance. Je brûle d'impatience !


Reply
---
Added by

loic

| February 23 , 2013

keep your money!



- weight make 2,8 impossible to use in wildlife without tripod!

- at 5,6, a 200 dollar lens is the same quality optically than a 1500 canon or nikon "pro" lense!!!!!

photographer, I successfully use a 200$ lens without stabilization:
- for "birding" speed is upper 1/500s
- in low ligth cndition
using a tripod is better than stabilsation.

prefer to use this money for the camera!!!


Reply
---
Added by

loic

| February 23 , 2013

en français!

Enfin un comparatif!
J'ai toujours affirmé:
- soit il faut acheter un 2,8 avec le problème de le porter (3kg!!!!)
- soit IL N Y A AUCUNE DIFFERENCE DE QUALITE OPTIQUE ENTRE LES MODELES CHERS OU NON

Donc en photographie animalière ALLER AU MOINS CHER les marques nikon ou canon font beaucoup d'argent avec des optiques quasi identiques, canon prétend meme que son zoom est "pro"....

J'utilise une optique à 200$ je suis photographe et les résultats sont très bons, juste un peu de retouche pour le 300mm!

Les optiques à plus de 1000$ n'apportent rien sauf léger mieux pour l'AF quand à la stabilisation elle est suvent inutiles:
- en "birding" on est à plus de 1/500e
- en affut, le trépied!!!

For my english readers : learn French it's a pleasure and the summit of the Civilisation too!


Reply
---
Added by

forall

| February 17 , 2013

please!

please tests and reviews the lens Tamron SP 70-300mm F/4-5.6 Di VC USD Canon! This product should be tested and reviewed on november 2012!
good lens.
thanks


Reply | Read all replies for this comment
First replies for this comment
---