ZEISS Touit 2.8/12 and Touit 1.8/32 Sony mount lens reviews: performance at a price
By Kevin Carter -
Thursday June 27 2013
Lens Review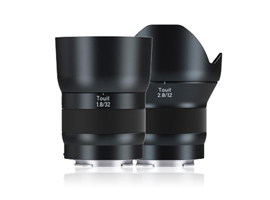 ZEISS already have one prime lens in Sony's NEX line-up, albeit made under license for them, but at Photokina in September, the optics firm announced its intention to produce AF lenses in both Sony NEX and Fuji X mounts. The first of these lenses in the series, dubbed Touit by the maker, are an ultra-wide Distagon 2.8/12 (18mm equivalent) and a standard-type Planar 1.8/32 (50mm equivalent). Read on to see how well these two new lenses perform on the Sony NEX-7.
As third-party lens makers, ZEISS already make lenses with mounts to fit Canon and Nikon DSLRs, and supply designs to Sony for their Alpha DSLRs and NEX mirrorless models, so it's not really surprising to see the maker expanding with lenses of their own for mirrorless cameras. The first two lenses unveiled, which incidentally feature AF, are the Touit 2.8/12 (18mm equivalent) and Touit 1.8/32 (50mm equivalent). Priced at $1,250 and $1,000 respectively, both lenses are available with mounts for the APS-C format Sony NEX and Fujifilm X series cameras. ZEISS have stated they have no intention to offer lenses for the smaller MFT format cameras.
Further readings for the ZEISS Touit 2.8/12 and Touit 1.8/32 Sony mount lens reviews: performance at a price
To provide photographers with a broader perspective about mobiles, lenses and cameras, here are links to articles, reviews, and analyses of photographic equipment produced by DxOMark, renown websites, magazines or blogs.
---
---
---
Comments
Are you testing distortion correction...... algorithm?

<div id="linkdxomark">This a comment for <a href="http://www.dxomark.com/index.php/Lenses/Camera-Lens-Database/Carl-Zeiss/Zeiss-Carl-Zeiss-Planar-Touit-18-32-Sony-E">this page on the website</a></div>Hi,

I believe you have made a mistake.

0.6% distortion of Touit 32/1.8 is camera firmware corrected result.
You can refer to
http://www.lenstip.com/386.6-Lens_review-Carl_Zeiss_Touit_32_mm_f_1.8_Distortion.html

Without distortion correction, the distortion is much higher (-1.8%)

How can you compare lens performance without disabling these correction first?
When mounting on different mounts (e.g. X-Pro1), the measured value will be different due to different algorithm.

I'm not to say Touit 32/1.8 is a bad lens.
I own one. Its image quality is really fantastic (great details, vibrant colors, typical Zeiss pop)!

Rusty


Reply
---
Added by

hihi

| June 28 , 2013

NEX-7

The NEX-7 is known to have degraded resolution towards the edges. Even native NEX lenses can produce higher resolution at the edges on the 14MP NEX-5 than the 24MP NEX-7. I wouldn't take these results as the last word on the Touit lenses' performance.


Reply
---
First replies for this comment
---
Re: Touit lenses

+1. Sigma 19mm and 30mm lens are absolutely amazing for still photos. I just you could use them for video too - the vibrations that the lens produce while refocusing are just too distracting. For the price though both of these lens are no brainers.


Reply
---