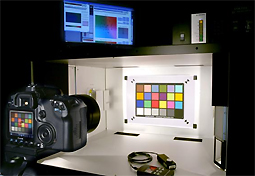 We measure the performance of camera sensors that are capable of producing RAW images, be it in professional, semi-professional or consumer-level categories. We also measure the performance of interchangeable lenses for cameras equipped with such sensors.
DxOMark measures camera sensors for:
ISO sensitivity (speed)
Noise (standard deviation, signal-to-noise ratio, dynamic range, and tonal range)
Color sensitivity
DxOMark measures lenses (mounted on cameras) for:
Resolution, derived from the MTF (Modulation Transfer Function) measurement
Distortion
Vignetting
Light transmission (T-stop)
Chromatic aberrations
From all these measurements we compute the DxOMark Scores (for Use Cases and Metrics).
All measurements are performed at our testing labs using our DxO Analyzer image quality evaluation solution.