DxOMark measurements for lenses and camera sensors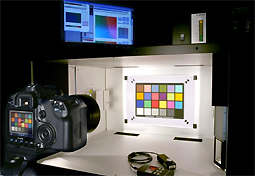 We measure the performance of camera sensors that are capable of producing RAW images, be it in professional, semi-professional or consumer-level categories. We also measure the performance of interchangeable lenses for cameras equipped with such sensors.
DxOMark measures camera sensors for:
ISO sensitivity (speed)
Noise (standard deviation, signal-to-noise ratio, dynamic range, and tonal range)
Color sensitivity
DxOMark measures lenses (mounted on cameras) for:
Resolution, derived from the MTF (Modulation Transfer Function) measurement
Distortion
Vignetting
Light transmission (T-stop)
Chromatic aberrations
From all these measurements we compute the DxOMark Scores (for Use Cases and Metrics).
All measurements are performed at our testing labs using our DxO Analyzer image quality evaluation solution.
Further readings for the DxOMark measurements for lenses and camera sensors
To provide photographers with a broader perspective about mobiles, lenses and cameras, here are links to articles, reviews, and analyses of photographic equipment produced by DxOMark, renown websites, magazines or blogs.
---
Sensor Insight
|
August 12, 2009
On DxOMark, we evaluate and rank many types of digital cameras with image sensors that vary widely in pixel count, pixel size, and digital signal processing. To ensure that sensor performance comparisons between cameras are fair, it is very important both to test under identical shooting conditions and to take viewing conditions into account.
---
Sensor Insight
|
June 09, 2009