Best lenses for you Canon EOS 6D: Part III – Wide-angle telephoto and super-zoom models
By Kevin Carter -
Wednesday July 17 2013
Lens Recommendations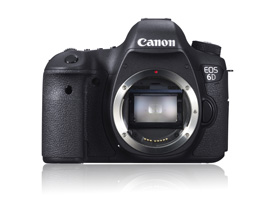 This is the third and final installment of a three part series on choosing the most suitable lenses for Canon's entry-point into full frame photography, the EOS 6D camera. The 20-Mpix CMOS sensor used by the EOS 6D is similar in architecture to that in Canon's hugely popular full-frame  EOS 5D Mk III, a camera that we've shown to be highly efficient at exploiting both the sensor and lens, resolving detail above what might be expected.  Although that particular model has a slight edge in pixel count, the more sensitively priced EOS 6D should perform similarly. To help you make the right choice when selecting lenses, we've had the opportunity to analyze the data from over 95 models on the EOS 6D.
Further readings for the Best lenses for you Canon EOS 6D: Part III – Wide-angle telephoto and super-zoom models
To provide photographers with a broader perspective about mobiles, lenses and cameras, here are links to articles, reviews, and analyses of photographic equipment produced by DxOMark, renown websites, magazines or blogs.
---
---
Comments
Canobn Eos 6D + 400mm L 5.6

Hi
I've got an Eos 6D and I have the canon 400mm L 5.6.
There is'nt the test and the corrections with my software DXO 8.
When the corrections module will be?
THX
Patrick


Reply
---
One AF point does not confirm focus

Hello,

I just purchased a second hand 6D and I have observed that the AF point from the extreme right does not confirm focus (it does not turn red), even if the focus is being made with success.
The camera had the 1.1.4 firmware and I have updated it to 1.1.6 recently, but the problem persists.
The shutter has never been changed and the counter is around 4100.

Has anyone experienced this problem?


Reply
---
Canon EF 17-35 f2.8L USM

Hello!

You don't have Canon EF 17-35 f2.8L USM amongst your wide-angle Canon lenses. It's still quite widespread and would be really helpful to have a review/test for it paired with Canon EOS 6D.

Thank you.



Reply | Read all replies for this comment
First replies for this comment
---
Lens addition(s) to Canon 6D 24-105 f/4L kit

Greetings, DxOMark! I recently purchased a Canon 6D paired with a 24-105 f/4L kit. Since the 24-105 f/4L is a general-purpose lens, I'm under the impression that there might be a need to augment my kit with primes and/or other zooms.

In what focal length(s) does the 24-105 f/4L underperform? Wide angle? Portraiture? Both?

In any event, what lens addition(s) would you recommend to augment my kit?

Thanks!


Reply | Read all replies for this comment
First replies for this comment
---
video performance of Sigma 35mm f 1,4

I purchased a Sigma 35mm lens for my 6d based on your review. The lens is sharp for stills, but have noticed it looses significant sharpness when used for video. My Canon 50mm f 1,4 is much sharper for video. Do you know why this might be? I am considering returning the lens because the video quality is significantly compromised in video.

Thanks,


Reply
---
Added by

ponz

| January 12 , 2014

Canon 17-40 f4

Hello,

I rely on this site quite a bit for my lens purchases. Would you please review/test the Canon 17-40? Many of us have been waiting a long time.

Ponz


Reply | Read all replies for this comment
First replies for this comment
---
Added by

Henz

| November 16 , 2013

70-200 Tamron

Hi,

Is the Tamron SP 70-200mm F/2.8 Di VC USD Canon really a better choice for 6D Canon than the Canon lens ???

Unbelievable. How could you explain this ?

Thanks.


Reply | Read all replies for this comment
First replies for this comment
---
6D or D600 ?

Give me a stupid question, between the D600 vs 6D which to choose here, really difficult to choose specific, I usually shoot M mode and RAW files (now I'm using 60D, Nikon better if I would have can find it). With 24-105 lens on 6D which lost 24-85 on the D600 is a bit sad for the price of 2 Canon lens and the difference is quite far: cost (6D + 24-105L)> (D600 + 24 -85), little more money I can buy Nikon 85f1.8, says far more about the 24-70 lens that Nikon Canon lower prices so more than 2 tubes mounted on the D600 6D and which one will look better !
Please help me with 1 way most viable option for FF series this low price! Thank you! ....


Reply | Read all replies for this comment
First replies for this comment
---
wide angle zoom lenses on 6D

Is it correct that the older 28-70mmf 2.8 L Canon lens is sharper than the first version of the 24-70mm f2.8 L lens when used on the 6D? Is this at all settings? When the initial 24-70mm lens was released, testing indicated that is was sharper than the older 28-70mm.


Reply | Read all replies for this comment
First replies for this comment
---
Wide angle zooms for 6d

Is it correct that the older 28-70mmf 2.8 L Canon lens is sharper than the first version of the 24-70mm f2.8 L lens when used on the 6D? Is this across all settings? When the original 24-70 was released testing found it to be optically superior to the 28-70.


Reply | Read all replies for this comment
First replies for this comment
---