Is the RX1 the compact photojournalists are waiting for?
By Paul Carroll -
Tuesday January 08 2013
Sensor Review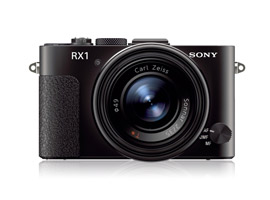 The new Sony RX1 offers discerning photographers the unique proposition of a full frame CMOS sensor and fixed 35mm f/2 prime lens in a compact shell. Perfect if you're after great image quality without the bulk, weight and inconvenience of a large DSLR. But how will the RX1 perform in the DxOMark Sensor Scores?
Launched in October 2012 the Sony RX1 is the world's first compact camera with a full-frame 24x36mm CMOS sensor. Featuring a fixed 35mm f/2 lens and 24 megapixel sensor in a petite shell the RX1 is designed for professionals after a discreet compact with excellent image quality. This places the RX1 firmly in the photojournalist and street photographer category and its unique offering of a full-frame sensor in a compact means it comes with a hefty $2,800 price tag.
The second release in the RX range of fixed lens compacts the RX1 sits above the more consumer orientated RX100, which features a 20-megapixel 1" sensors and costs $649. The RX range complements Sony's existing NEX range of Hybrid cameras featuring an APS-C sensor, as well as their line-up of DLSR style SLT cameras featuring Sony's own Translucent Mirror Technology.
The RX1 doesn't offer a viewfinder as standard, although the V1K optical viewfinder is available separately for $600. There is however a built in flash and a hotshoe that's compatible with both standard and Sony proprietary flashguns. The ISO range extends between 100-25600, there's a dedicated aperture ring, 5 user-customizable buttons, 1.23M dot LCD, 1080p video capture and 14cm minimum focus for close-ups.
So lots on offer, but with a plethora of other Hybrids available and other fixed lens offerings like the $1,200 Fuji X100, $999 Sigma DP2 or $1,995 Leica X2 on the market is the RX1 the camera you want? The DxOMark Sensor Scores can help you decide…
Further readings for the Is the RX1 the compact photojournalists are waiting for?
To provide photographers with a broader perspective about mobiles, lenses and cameras, here are links to articles, reviews, and analyses of photographic equipment produced by DxOMark, renown websites, magazines or blogs.
---
Comments
Added by

maxb

| June 05 , 2013

RX1 Sonnar lens mid zone dip

Hi there,

I was wondering if you noticed a mild mid zone dip with the RX1 lens? I just got the cam and the lens seems to dip slightly about 1/3 out from the centre. I also find that the corners are sharper than this area....?

Cheers,


Reply | Read all replies for this comment
First replies for this comment
---
Sharpness at f2.0 vs f3.2

Hello,
I like the RX1 a lot, but center sharpness gets A LOT better when stopping down from f2.0 to f2.8 or f3.2. At 100% view, this is fully field relevant: Details and sharpness at 2.0 are okay, from 3.2 they are brilliant. I must admit to be somewhat disappointed by that. Does this practical view fit to Your lab results (which are somewhat abstract to me), i.e. is that "perfectly normal" or did I get a bad copy ?

Yours sincerely

Martin


Reply | Read all replies for this comment
First replies for this comment
---
nice review

Thank you for the review. Looks to be a remarkable camera!

Though not really cross comparable, the Pentax K5 apsc dslr's measure an equally very healthy 14.3 EVS... until one can afford the sony the K5 is still pretty remarkable, especially for those like me on a budget.
We live in a remarkable age to have so many great cameras and reviews at such an easy reach.

Thanks again!


Reply | Read all replies for this comment
First replies for this comment
---
DXO: What is selected for RX1's Transmission to decide it's SNR Score?

Hi!

I would like to know what is selected for RX1's Transmission Score to decide it's SNR.
T = 2.1 or 2.0?

And if the above selection is not correct, RX1's SNR Score may be changed?
(E.g. If the selected value is 2.0 and the real value is 2.1, the total amount of the light, which reaches to Sensor in real value, is about 10% lower than the selected value)


Reply | Read all replies for this comment
First replies for this comment
---
First replies for this comment
---
Added by

msatlas

| January 09 , 2013

High ISO way better than Sony A99

What's up with the RX1 doing so much better than the A99 on the high ISO score? I thought they're supposed to have similar sensors but the RX1 seems to perform significantly better. Is that all chalked up to the A99's pellicle mirror?


Reply
---
Another mistake?

First it's saying that Sony uses BSI type image sensors in their dSLRs, (they don't, those are Exmor "R") and now the RX100 has an APS-C sensor? It doesn't. The RX100 uses a 1 inch sensor, like the Nikon 1 series.


Reply | Read all replies for this comment
First replies for this comment
---
Added by

Hakeem

| January 08 , 2013

another fullframe camera review

Where is XTrans sensor camera? why not testing them? all the major review sites has pubslished their reviews ages ago.

and you call yourself "Camera Sensor" Only Analysts/ Experts?

The first camera you should review is xpro1 last year!

Don't know what's wrong with you guys!!


Reply | Read all replies for this comment
First replies for this comment
---