Nikon AF-S Nikkor 24-85mm f3.5-4.5G ED VR and Nikon AF-S Zoom-Nikkor 24-85mm f/3.5-4.5G review
By Ben Boswell -
Tuesday April 30 2013
Lens Review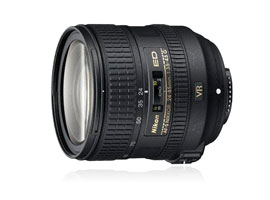 Most manufacturers have a lens that gets bundled with their cameras to make a 'Kit', and Nikon is no exception, but when its full frame cameras are beginning to be accessible to the consumer market, the kit lens needs both coverage and quality to be an appropriate partner to the likes of a Nikon D600.
This review is primarily about Nikon's AF-S Nikkor 24-85mm f3.5-4.5G ED VR, throughout we will refer to it as the 'VR lens'. We will also talk about its predecessor the AF-S Zoom-Nikkor 24-85mm f3.5-4.5G IF-ED, which we will refer to as the IFED. The IFED is now discontinued but is still available in some places and of course second hand.
A decade has elapsed between the launches of these two lenses but the specification and performance are little changed other than that the new lens has had 'Vibration Reduction' built into it. Both lenses are built to cover full frame 35mm, they will also work on Nikon's APS-C (DX) bodies giving an effective focal length range of 36mm-127.5mm. The optical designs, though similar are not the same: the IFED lens had 15 elements (including one aspherical), in 12 groups while the VR lens sports 16 elements (three of which are aspherical), in 11 groups. Both include one ED (Extra-low Dispersion) element. The old lens utilized internal focusing (IF) which has not been carried on in the new lens, but it does, as we mentioned have Vibration reduction: Nikon claim a four-stop advantage for its VRII system, allowing for hand-held use in very low light.
Further readings for the Nikon AF-S Nikkor 24-85mm f3.5-4.5G ED VR and Nikon AF-S Zoom-Nikkor 24-85mm f/3.5-4.5G review
To provide photographers with a broader perspective about mobiles, lenses and cameras, here are links to articles, reviews, and analyses of photographic equipment produced by DxOMark, renown websites, magazines or blogs.
---
---
---
Comments
Added by

vitaly

| May 02 , 2013

Thanks!

Many thanks for the review.
One question about these measurement: are the sharpness results reported for a certain distance taken from single spot or averaged over all points at that distance?
The reason I'm asking is that I've used several copies of the lens and they all had unusualy high decentering with at least one of the quarters of the image looking much worse than the other ones. This is most obvious at the long end of the zoom and can be also seen in many other tests done online.


Reply | Read all replies for this comment
First replies for this comment
---
Where are the promised tests for lenses for D600?

At the end of April, you promised to have a lot of tests for lenses to be used on Nikon D600. I am especially interested with a tests for Sigma 35mm f1.4 not only on D600, but also on D7100.


Reply | Read all replies for this comment
First replies for this comment
---
Added by

ttfatt

| April 22 , 2013

Expecting measurement

April is almost over. Have been waiting to see the measurement result for months. I wonder DxOMark will still do the measurement.


Reply | Read all replies for this comment
First replies for this comment
---
First replies for this comment
---
Added by

vitaly

| February 22 , 2013

When will we see the measurements

This is a very popular lens, so it would be great to see how it compares to other standard zoom options for Nikon. Please review it.


Reply | Read all replies for this comment
First replies for this comment
---