Nikon AF-S Nikkor 60mm F2.8G ED: Nikon's best Micro Nikkor?
By Kevin Carter -
Thursday April 24 2014
Lens Review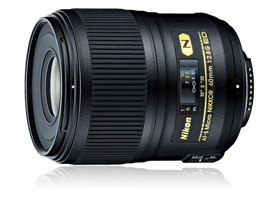 Nikon revamped its popular 60mm f2.8 Micro AF-D model replacing it with this 12-element G-series version. Read on to find out how well it performs.
Nikon replaced the 8-element AF-D version of the 60mm f2.8 Micro with a redesigned model in January 2008. It adopts the firm's current G-series spec consisting of a built-in sonic type AF motor and a new optical design with a total of 11-elements, including ED (extra low-dispersion) glass and IF (internal focusing). Like its predecessor it has floating elements for improved optical performance at close range and achieves 1:1 (life size) magnification without the use of extension tubes, albeit focusing down to 7.28" (18.49 cm), slightly closer than the 8.66" (22 cm) of the model it replaces.
Despite the inclusion an AF motor and more glass Nikon reduced the weight at 15 oz (425 g) versus 15.52 oz (440 g) yet it adopts the same 62mm filter thread, and measures 2.8 x 3.5" (7.11 x 8.89 cm), slightly longer than the 2.8 x 2.9" (7.11 x 7.37 cm) of the AF-D version. It is available now with an $80 premium over its predecessor at $546.95.
Further readings for the Nikon AF-S Nikkor 60mm F2.8G ED: Nikon's best Micro Nikkor?
To provide photographers with a broader perspective about mobiles, lenses and cameras, here are links to articles, reviews, and analyses of photographic equipment produced by DxOMark, renown websites, magazines or blogs.
---
---
Comments
First replies for this comment
---
Same experience as Fredbare

With my D800, photos taken @f5,6-f8 with 5 copies of the 60mm G (used for general photography as opposed to real macro 1:1) do not look as sharp as ones shot with my 35mm f1.4 G, 70-200mm f2.8 VRii or even the 50mm f1.8G. While many lens review websites give it very high praise, reviews from DXO, SLR Gear and a rental site that actually compared it with the 105mm VR at macro distances, parallel my experience.


Reply
---
Added by

mg428

| April 28 , 2014

Very odd score: needs explanation

The G lens only excels at one paramter (sharpness, acutance to be more specific) and only at one aperture, the widest f/2.8 aperture to be more specific. On the most of the rest of the parameters the G lens performs significantly worse. CA worths specific mention in this regard despite the ED element in the G lens.

SO HOW COME DO THEY SCORE SAME?

(Note: If this were a lens where the most important aspect were high performance at maximum aperture, this could have been the explanation, but even the review explicitly states that performing high at f/2.8 is not what people look for on macro lenses. I'd like to also remind that when closed focused the aperture will be automatically stopped down.)


Reply | Read all replies for this comment
First replies for this comment
---
Surprising score

It is surprising to see that, although the old lens is significantly superior on most metrics (in particular CA), they end up with the same score.

It would be nice if you could explain this result.

Thanks.

Cheers,
Bernard


Reply
---
Nikon 60mm AF-S

Thanks for (finally) doing the review!
I have one and am not entirely happy with the IQ but thought 'it must be me' as others give this lens glowing reviews.
Can now justify another lens ;-)


Reply
---