Nikon AF-S Nikkor 70-200mm f/4G ED VR review: An enlightened 70-200mm lens choice
By David Newton -
Monday January 07 2013
Lens Review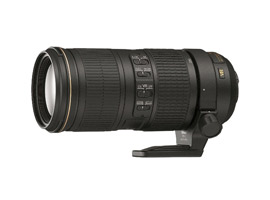 Launched in October 2012, this new lens from Nikon offers a lower cost entry point to the very popular 70-200mm focal length that finds a wide range of uses in everything from sports and wildlife to portraits and social documentary photography. Taking on many of Nikons newest technologies, does the reality match up to the promise?
For many years, the 70-200mm focal range has been seen as one of the key battlegrounds over which manufacturers compete. It is such a useful focal range that the reality is there is almost no genre of photographer that will not benefit from having a lens of this range in their bag. Generally, lenses of this focal range feature a constant maximum aperture, either f/4 as is the case here, or the more expensive versions at f/2.8.
Designed for full-frame (FX) sensors, AF-S 70-200mm f/4G ED VR lens will also work on a DX sensor camera, offering a 105-300mm equivalent focal length. The lens also features three of Nikon's top technologies – a Vibration Reduction (VR) system to allow you to shoot handheld at up to five stops slower than normal, a Nano Crystal Coat to minimize ghosting and flare and a Silent Wave Motor (SWM) for fast, quiet autofocus.
Further readings for the Nikon AF-S Nikkor 70-200mm f/4G ED VR review: An enlightened 70-200mm lens choice
To provide photographers with a broader perspective about mobiles, lenses and cameras, here are links to articles, reviews, and analyses of photographic equipment produced by DxOMark, renown websites, magazines or blogs.
---
Comments
Comparison with Nikon 70-200 f/2.8G VR II

Hello,

Do you have any news on the Nikon 70-200 f/2.8G VR II dxo mark test?




Reply
---
Added by

HNEPLEX

| January 11 , 2013

Fair resource on gear in the Internet

@bargello:

Check this out. Consistent and reliable measurements:

http://www.slrgear.com/reviews/index.php



Reply
---
Quite useless without comparison with Nikon 70-200 f/2.8G VR II

It's quite useless without comparison with Nikon 70-200 f/2.8G VR II which, surprisingly, has yet to be reviewed/rated by DxO. What's with the long wait, or worse, DxO do not intend to rate it at all? The Nikon 70-200 f/2.8G VR II is one of the most important lens used by professionals and others, so why no rating? Very, very strange.


Reply | Read all replies for this comment
First replies for this comment
---
Added by

fayard

| January 08 , 2013

Sharpness as a function of camera

If you look at the sharpness of this lens for various cameras, you get:

D600: 18P-Mpix
D3X: 19P-Mpix
D800: 20P-MPix
D800E: 30P-MPix

I think that these results prove that there is something seriously wrong with the way you define sharpness. There is no way that D600/D3X and D800 are so close and D800E is so above.

For the D800/D800E comparison, I know that you compare the sharpness of the image without any sharpness applied to the picture. It is obvious that a camera with anti-aliasing filter needs (and can handle) more sharpening than a camera without one. Therefore, the comparison is not fair.

I stil don't understand why the D600 and D800 results are so close. It just does not match what you get when you compare a crop of a D800 and a crop of a D600 picture upscaled to 36MP.



Reply | Read all replies for this comment
First replies for this comment
---
First replies for this comment
---
Nikon 1,2,3 stop !!!

Hi I have the 70-200 2.8 VRII course! assumptions and four steps is unmatched by other nikon lens, but does magic on their four steps must add good arm and photographic technique. is that I read the comments in various forums and it seems we buy a wand, if the same thing again, is not better photographer with better equipment, remember that the picture comes in our head and then goes to the sensor.


Reply
---
70-200 f/4 - incorrect detail

"Like its big brother, the 70-200mm f/4 is equipped with the latest generation of optical image stabilization for which Nikon announces a huge gain of 5 stops."

No, the f/4 does not have the same VR as the f/2.8. It has 'VR III' which Nikon claims gives 5 stops. The f/2.8 has VR II, claimed to give 4 stops (in other words, previous generation)


Reply
---