Nikon AF-S Nikkor 80-400 f4.5-5.6G ED VR review: Nikon's 'Super-Zoom' versatility at a price
By Ben Boswell -
Wednesday May 29 2013
Lens Review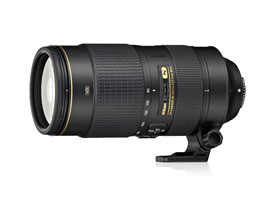 Nikon has had an 80-400mm lens in its range for the past 13 years, which it has now updated. This is not just a bit of a tweak though; the new lens is sharper, better corrected for distortion and chromatic aberration and full of new technology. It is also heavier, bigger and more than 50% more expensive – so is it worth it?
Further readings for the Nikon AF-S Nikkor 80-400 f4.5-5.6G ED VR review: Nikon's 'Super-Zoom' versatility at a price
To provide photographers with a broader perspective about mobiles, lenses and cameras, here are links to articles, reviews, and analyses of photographic equipment produced by DxOMark, renown websites, magazines or blogs.
---
Partner reviews
|
May 29, 2013





As you might hope for a replacement for a lens that's over a decade old, the AF-S Nikkor 80-400mm f/4.5-5.6 G ED VR clearly outshines it predecessor. It performs better in practically every respect - it's distinctly sharper, especially wide open at the long end, and has much lower distortion and chromatic aberration……

Read the article

---
Comments
80 - 400mm + 1.4 Teleconverter

Having used this lens on a D610 with and without the version 3 1.4 converter from Nikon it is incredibly sharp with a lack of aberration and fringing throughout the zoom range. The biggest problem I encountered was from putting a protective filter on the front of the lens which caused severe ghosting and lateral fringing at 400mm as soon as I removed the filter all the images are clean, I have now removed all filters from my other lenses which has resulted in a noticeable improvement in the photo's taken on the D610. Using the hood which comes with your lens is protection enough.
The problem I have found photographing wildlife with this lens and teleconverter is movement, at 550mm you really need to use a mono pod or tripod because of the drop in light and speed on the camera. Dropping the camera down to DX mode gives you 825mm and on a bright sunny day you can get some respectable photo's with a very small softening of the image. This is a very versatile lens and is sharp where it counts... through the centre of the image. When you consider the price of a 500mm or 600mm lens the 80 to 400mm with the new teleconverter is very respectable alternative.



Reply
---
Added by

mcvmjr

| September 11 , 2015

Super tele test

We are waiting to compare the AFS 80-400 performance against the new super-teles, like nikkor 200-500, sigma 150-600 (sport and Cont.) and Tamron 150-600 for nilon mount.
When the DxO are going to make it?


Reply
---
Nikon AF-S Nikkor 80-400 f4.5-5.6G ED VR

I am surprised that this lens got a DxOMark score of 22 and a sharpness of only 14 P-Mpix with the Nikon D800 (36 Mpix), but got a DxOMark score of 21 (lower and expected) and a sharpness of 15 P-Mpix (higher, but not expected) with the Nikon D610 (24 Mpix) when all the other lens metric scores were the same. Could you explain?


Reply
---
D800 score vs D7100 with this lens (Nikkor AFS 80-400 DX)

<div id="linkdxomark">This a comment for <a href="http://www.dxomark.com/index.php/Lenses/Nikon/Nikon-AF-S-NIKKOR-80-400mm-F45-56G-ED-VR">this page on the website</a></div>D7100 has a smaller pixel pitch compared to a D800 and the sharpness of the lens is implied as 9 Mpix. The D800's score is an implied 14 Mpix.

Why would a sensor with smaller pixel pitch that uses only the sharpest portion of the full frame image have an implied sharpness value less than a sensor with a larger pixel pitch?

Shouldn't the 24 Mpix D7100 show a sharper score than the 36 Mpix D800 because the pixel pitch is small and thus more pixels are on target with similar framing?

I'm struggling with this lens and want to know if it's my camera, my copy of this lens, my ability, or if I should move to full frame for sharper images.

I just can't get very sharp images with this lens and the D7100....even after AF Fine Tune.

Any information on the DX test procedure that result in a 9Mpix sharpness score for the D7100 vs a 14 Mpix sharpness score on the D800 would be greatly appreciated.

Thanks!


Reply | Read all replies for this comment
First replies for this comment
---
Added by

Normu

| May 29 , 2013

New Nikon 80-400mm F4.5-5.6

I am disappointed in the refresh of this lens. Nikon doubled the price of the old lens. But the biggest issue I have is that if you want add a @x teleconverter you will be at F11 and no camera body is going to give you autofocus at this aperture. I prefer the Nikon F4 lens which allow me to have autofocus at least with the D600 and D800 bodies as well likely as future Nikon body releases. The 300/4 and 70-200/f lens give more flexibility that the new 80-400mm.


Reply | Read all replies for this comment
First replies for this comment
---
Glad to see this tested finally

I've been using the 80-400 for a couple of months now and am very happy with it. I've favoured it in practice over the 70-200/2.8 VR II when light allows (I haven't tried the 70-200/4). Not always sure why, though at least sometimes it's because of the extra reach and narrower depth of field (200/2.8 vs 400/5.6).

Good to see it compared against Sigmas, since they have quite a few big zooms at value price points. It'd be interesting to see a comparison against the 50-500 and 150-500 too, as they're popular alternatives to the 80-400.

I caution that the 300/4 isn't an equivalent alternative, though. In my experience the 300/4 is a pretty sharp lens - certainly better than your low-end zooms like the 55-300, but it's not as sharp as the 80-400 and has a lot more distortion (plus the lack of really useful features like instant manual focus override and the ability to zoom). Fingers crossed it gets a refresh soon, though - could be amazing.

It seems evident, however, that your chromatic aberration test is only evaluating lateral chromatic aberration. The 80-400 is indeed awesome in this regard. But it does have a sadly large amount of axial chromatic aberration. I don't know if it's better or worse than similar super-zooms or high-telephoto primes - which is why it'd be great if you'd consider testing for that in future. :)


Reply
---
Thanks for the review but ...

You say that maybe the 70-200 plus the 300 F4 might be a better combination but what do you know that we don't? ;-)
The 300 F4 has not officially been tested by DXO and thus isn't there to compare.
Would be nice if you added this popular, affordable lens to your database.


Reply | Read all replies for this comment
First replies for this comment
---
First replies for this comment
---