Olympus PEN EP3 image quality review
Wednesday July 13 2011
Sensor Review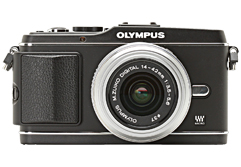 We have tested the Olympus PEN EP3, the latest 4/3 camera by Olympus, and the first results show that its sensor performance is pretty much the same as for the Olympus PEN EPL2 and Olympus E5.
Nevertheless, comparing it to the upcoming Sony NEX C3 should be interesting, as they are both in the EVIL (Electronic Viewfinder Interchangeable Lens) camera category.
Olympus PEN EP3, a good micro 4/3 sensor already familiar to us
Tests show that the new Olympus EP3 provides measurements similar to the previous Olympus models. In spite of its good results, we still encountered some old problems:
The EP3 achieves a low-light ISO score of only 536, which is significantly lower in comparison with the results of some of the latest APS-C sensors (for example, the Sony NEX C3's low-light ISO score is 1083). 
The Olympus PEN EP3 has still the same behavior in low ISO for dynamic range, and its score at minimum ISO does not increase as expected (+1 EV compared to the next ISO).
Olympus PEN EP3 vs Olympus PEN EP2 vs Olympus PEN EPL2
Color sensitivity measurements vary slightly, and while this difference shouldn't be noticeable on natural images, it is precisely this difference that explains the gaps between the DxOMark scores of the 3 models.
See the full comparison here: Olympus PEN EP3 vs Olympus PEN EP2 vs Olympus PEN EPL2
Olympus PEN EP3 vs Sony NEX C3
Now this is an interesting comparison: Olympus PEN EP3 vs Sony NEX C3.
At first sight, this comparison is rather unfair, as the Olympus sensor is smaller; however, as we said earlier, they are both EVIL cameras — a category of interchangeable-lens cameras that some photography enthusiasts and professionals rely on for every-day use to take everywhere, without the bulk and weight of DSLRs.
They are both EVIL cameras; what are their main differences?
The Olympus PEN EP3 and the Sony NEX C3 follow two different schools of industrial design. Sony prefers to use DSLR-sized sensors in its EVIL offerings, and therefore must also use DSLR-sized lenses. This gives the NEX series small bodies but rather big lenses.
The Olympus/Panasonic school or 4/3 format uses smaller sensors for consequently smaller camera bodies, which then require obviously smaller lenses. Keep these small camera/lens combinations in mind if size is a deal-breaker for your next camera.
We will have to wait for the measurement results for the other announced models (PEN EPL3, PEN EPM1 and Panasonic GF3) to have a broader view of the technical improvements for this micro 4/3 camera.
Other interesting EVIL camera comparisons:
Olympus PEN EP3 vs Panasonic GF2
Olympus PEN EP3 vs Samsung NX100
Compared to the high-end Fuji X100 compact camera:
Compared to the best high-end compacts available:
Olympus PEN EP3 vs Canon Powershot G12 vs Canon Powershot S95
Olympus PEN EP3 vs Nikon P7000 vs Samsung EX1
Olympus PEN EP3 vs Panasonic LX5
Further readings for the Olympus PEN EP3 image quality review
To provide photographers with a broader perspective about mobiles, lenses and cameras, here are links to articles, reviews, and analyses of photographic equipment produced by DxOMark, renown websites, magazines or blogs.
---
Sensor Review
|
October 31, 2011
| | |
| --- | --- |
| | Introduced this past summer, the PEN E-PL3 and PEN E-PM1 are the latest micro-four-thirds cameras from Olympus. These 2 new models are intended to complete the PEN EP3 series and thus offer a whole range of compact cameras with interchangeable lenses. Each model offers a different set of controls with a different size, depending on whether you need more directly-accessible controls while shooting, or if you favor a pocketable camera. But as we'll see, given that they're based on the same sensor as the PEN EP3, these cameras perform equally well (or poorly) in term of image quality. |
---
---
---
---
---
---
---