Panasonic LUMIX G 25mm F1.7 ASPH Micro-Four-Thirds mount lens review: Attractive option
By Paul Carroll -
Thursday December 03 2015
Lens Review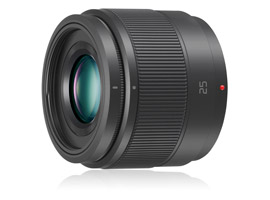 Announced at the IFA 2015 in Berlin, this new Micro-Four-Thirds Panasonic LUMIX G 25mm F1.7 ASPH lens is a welcome addition to Panasonic's existing range. Read on to find out how well this new model performs.
Specifications and Features
The Panasonic LUMIX G 25mm F1.7 ASPH is a fast, compact, and lightweight prime lens. It has a bright f/1.7 maximum aperture that allows for shooting low-light scenes and offers additional depth-of-field control over slower kit zooms.
Lens construction consists ofeight elements in seven groups, including two aspherical lenses to reduce chromatic and spherical aberrations for increased sharpness and clarity. The company says the optical formula also includes one ultra-high refraction (UHR) element that helps produce even illumination and sharpness for consistent performance throughout the aperture range. It achieves an attractive and smooth out-of-focus effect when working with shallow depth of field due to the rounded seven-blade diaphragm. If you shoot videos, you'll find that the stepping motor delivers fast, smooth, and near-silent autofocus operation.
The new Panasonic LUMIX G 25 mm F1.7 ASPH focuses to 9.84' (25cm) and measures 2.39" x 2.05" (60.8 x 52 mm). It weighs 4.41 oz (125g) and is available now for $300.00 (USD).
Specifications
8 elements arranged in 7 groups
F1.7 maximum aperture
Aspheric surfaces
9.84' (25cm) minimum focus
Further readings for the Panasonic LUMIX G 25mm F1.7 ASPH Micro-Four-Thirds mount lens review: Attractive option
To provide photographers with a broader perspective about mobiles, lenses and cameras, here are links to articles, reviews, and analyses of photographic equipment produced by DxOMark, renown websites, magazines or blogs.
---
Comments
Huge flaw in DXO coverage of Olympus lenses

It's just weird that DXO won't review the Olympus 25/1.8. There are few things more important to know about than the cheapest normal lens in the range. Here we have one of the most popular lenses for M43 (if not THE most popular) -- and DXO is stubbornly ignoring it. Would be REALLY NICE to know how it stacks up against the various alternatives. I mean, why dive in to review the Panasonic 25/1.7, when you've still glaringly omitted the Olympus equivalent? It's just as absurd as ignoring, say, the Canon or Nikon 50/1.8.

By the way, I find the Olympus lens superb. But it would be truly useful to know whether it's bested by some of the others in this focal length.


Reply
---
Added by

peevee

| December 05 , 2015

There are other 25mm lenses

Olympus 25/1.8 is the closest competitor, but there is also Panasonic 25/1.4, 20/1.7, Sigma 19/2.8 and 30/2.8, SLR Magic and Voightlander 25/.95 - all of them closer than 17mm DxOMark compares this lens to.


Reply
---
Panasonic 25mm 1.7

I can't imagine people at DXO not being aware of the fact that there is a Olympus 25mm 1.8 on the market for months already? It was there before the Panasonic lens now tested, and it would have made much more sense to compare it to Olympus' 25mm than to the 17mm's. If – as the review suggests – the new Panasonic 25mm is "intended to entice users to upgrade from a kit zoom", then why don't we see a comparison with the scores of a kit zoom at 25mm?


Reply
---