Samsung NX30 sensor review: Convincing option?
By Kevin Carter -
Tuesday April 29 2014
Sensor Review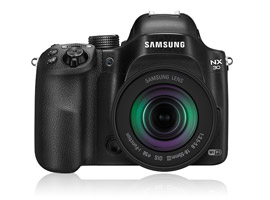 Samsung's new 20.3-Mpix APS-C NX30 is a revamp of the former mid-range NX20 model. Read on to find out if it's got what it takes to compete with rival mirrorless offerings.
Although it shares the familiar guise of the Samsung NX20 with its built-in EVF this new model features the 20-Mpix CMOS sensor complete with on-chip phase detection AF pixels as found on the current finder-less NX300 model.
The body styling is perhaps an acquired taste but in addition to the Hybrid AF system. the NX30 has a number of new and notable features. Although it looks plastic the body is in fact made from an alloy while the EVF is no longer fixed, it's a pull out and tiltable unit instead.
At the rear, the screen has been upgraded to a higher quality panel. It's a tiltable 3-inch 1.04-M dot resolution Super AMOLED type with high brightness and striking color. Samsung has unsurprisingly promoted wireless communication in cameras and this model has Wi-Fi with NFC capability for sharing and remote operation.
Also, as one of their Smart camera models it has some interesting options, including the ability to email photos directly or upload them automatically to social networking sites, PCs or the cloud. As a model intended to appeal to enthusiasts, video has also seen a boost in capability over the NX20s full HD 1080/25/30fps. The NX30 adds a 24fps and slow-motion 50/60 fps options, mic socket with manual audio levels (albeit with no headphone socket) and an uncompressed HDMI output at 1080/25/30fps. Despite the upgraded specification the Samsung NX30 measures a mere 5.0 x 3.8 x 1.6" / 127.0 x 96.5 x 40.6 mm and weighs 21.9 oz / 621 g. It's available now at $999 including the Samsung 18-55mm f/3.5-5.6 III OIS (stabilized) zoom lens.
Key specifications
20.3-Mpix APS-C CMOS sensor
2.36-M dot pull out and tiltable EVF
3.0-inch 1.04-M dot AMOLED tilt touchscreen
Full HD (1080p) up to 60fps
Uncompressed HDMI output at 25/30fps
9 fps continuous burst
Wi-Fi connectivity with NFC
Metal body
Further readings for the Samsung NX30 sensor review: Convincing option?
To provide photographers with a broader perspective about mobiles, lenses and cameras, here are links to articles, reviews, and analyses of photographic equipment produced by DxOMark, renown websites, magazines or blogs.
---
---
---
---
Comments
Added by

XCLN

| June 19 , 2014

What Samsung needs to do

I disagree with technoworld - Samsung has the deep pockets and vision to stick with it, as they have shown decades ago with their printers and other items. They are just NOT going to give up. They easily have all the resources needed in various departments and existing know how.

Where they need to adjust faster in my opinion are
1 - they need to get a couple Very HIGH quality lenses, just a 35mm and 85mm equiv f/1.2 or 1.4 at a min
This would enable professional very high quality images to be made
2 - they need to get more promotion/ advertising. Here nothing better than have the endorsement of a topnotch photographer.

Right now they have a clear lead in price and lens coverage, but things are moving fast



Reply | Read all replies for this comment
First replies for this comment
---
Re: What Samsung needs to do

As I read I'm understanding it. A very wide range of knowledge


Reply
---
First replies for this comment
---
Re: Samsung

A6000 has significantly better iq, more mp, much better looking body, faster continuous af, lower price. X-e2 has better iq at high iso, much better evf, much better looking body, comparable price.

Why should anybody buy this dslr alike, bulky and plasticky body? It has the same iq as the two years old nx20, the same af speed of the one year old nx300. It has a sequential evf, small and dull.

The only positive side about nx are its lenses, but the advantage is smaller and smaller over sony, while fuji has faster (though expensive) great primes.

I think nx is about to disappear from the market, unless samsung produces a rangefinder body with a new oled evf and a new (and much better) sensor soon, priced competitively towards the a6000.


Reply
---