Sigma 18-35mm F1.8 DC HSM A Nikon mount lens review: Unrivalled Standard Zoom
By Kevin Carter -
Tuesday November 19 2013
Lens Review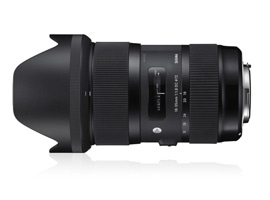 Sigma's move away from the value-end of the market has resulted in some very high-quality yet sensitively priced lenses such as the full-frame 35mm f1.4 HSM A and this lens, the APS-C format 18-35mm f1.8 DC HSM. While we've previously reviewed the Canon mount version, Sigma has just released the lens in Nikon mount and we were curious to see if the performance could be repeated. Read on to find out.
Sigma has garnered praise for the Canon EF-S mount version, and now the Japan-based optical company has released the lens with a Nikon F mount for use with DX format cameras. It maintains the same optical formula as before and includes 17 elements in 12 groups with five low dispersion glass elements and four elements with aspherical surfaces to reduce aberrations while keeping the lens as small as possible.
It has an equivalent field of view to a 27-52mm lens and uses and ultrasonic type AF motor for near silent focusing down to just 28cm. Inevitably for a high-speed model like this with a 72mm filter thread and measuring 121mm front to back, the lens is a fairly weighty 811g (1.78 lb) At a not unreasonable $799, the lens is back-ordered in Nikon mount but availability is slated for November 21.
Further readings for the Sigma 18-35mm F1.8 DC HSM A Nikon mount lens review: Unrivalled Standard Zoom
To provide photographers with a broader perspective about mobiles, lenses and cameras, here are links to articles, reviews, and analyses of photographic equipment produced by DxOMark, renown websites, magazines or blogs.
---
Lens Review
|
July 16, 2013
| | |
| --- | --- |
| | After the runaway success of the full-frame 35mm f/1.4, Sigma is taking the initiative with this new ultra-high speed, pro-level standard zoom designed for APS-C format cameras. The specification is particularly promising, but does it mean the end of fixed focal lenses for APS-C? Read on to see how well this cutting-edge model performs in our labs. |
---
---
---
Comments
Lens tested

Only Nikon d7200 has not been tested yet on any lens on dxomark????


Reply
---
Why is the transmission higher than Canon version?

Canon version has 1.8T while Nikon version has 2.3. Are they using different element for different versions or something?


Reply
---
Why is this lens better on the 3300

Why is this lens better on the 3300 than on the 3200 or the 5200??


Reply
---
Very bad binomio D7200 and sigma 18-35mm

For those who used to shoot in Live VIew mode NIKON D7200,this lense does not work, no focus at all on D7200 in Live View.
I think that DXOMARK before publish any result should check the whole compatibility between both.




Reply
---
First replies for this comment
---
Sigma 18-35 EF versus FX

Hello,
I wonder why Sigma 18-35 does not perform as well with D5300 as with EOS 700D?
Usually, same lens perfoms better with D5300 24 mpx sensor...
Thank you very much for your help. Regards, Stephane


Reply | Read all replies for this comment
First replies for this comment
---
Sigma 18-35 vs. Nikon 18-35 G

In defense of the Nikon lens, it provides a full 18-35 mm on my D600, and an effective 27-52 mm on my D3200. So the Nikon represents a bargain in my opinion. And yes the D600 is my mission critical body.


Reply
---
Added by

jxing

| November 20 , 2013

Canon version is not EF-S, it's EF mount but apsc image circle.


Reply
---
Added by

josa

| November 19 , 2013

Quality, sharpness

I am speechless...


Reply
---