Sigma 50-150mm f/2.8 EX DC APO OS HSM for Canon and Nikon review – A high performance 70-200mm equivalent for APS-C cameras
By David Newton -
Friday May 03 2013
Lens Review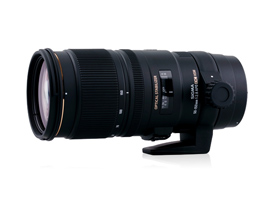 Launched in February 2011, the Sigma 50-150mm f/2.8 EX DC APO OS HSM is a trans-standard zoom lens aimed at APS-C camera users. On these APS-C models, the crop factor of the sensor (1.5x on Nikon and 1.6x on Canon) makes it comparable to the 70-200mm focal length on a full frame camera, but arguably with an even more versatile length as they reach a little longer (225mm on Nikon and 240mm on Canon). Featuring a raft of specification acronyms, it promises high performance in a well-priced package, but does the reality live up to the billing?
The 70-200mm focal range on a full-frame camera is one of the most popular. It finds a place in the kit bags of almost of types of photographers and is therefore a key battle ground not just for the main camera/lens manufacturers, but also the third party manufacturers like Sigma. By offering a 50-150mm lens for APS-C cameras, they provide approximately the same focal range as a 70-200mm while being able to tailor the lens specifically for better performance.
Featuring an APO lens, Sigma's HSM autofocus motor, internal focusing and a four-stop optical stabiliser, the handling, ergonomics and image quality should be high. To find out, the DxOMark labs have tested both a Nikon and Canon version.
Further readings for the Sigma 50-150mm f/2.8 EX DC APO OS HSM for Canon and Nikon review – A high performance 70-200mm equivalent for APS-C cameras
To provide photographers with a broader perspective about mobiles, lenses and cameras, here are links to articles, reviews, and analyses of photographic equipment produced by DxOMark, renown websites, magazines or blogs.
---
---
---
Comments
I don't see anything wrong

@BTJ1969

The Sigma 50-150 is a DX-only lens. It will not light the full frame.
That means you have to use a DX camera to compare it with any other lens. The D7000 is the best performing DX camera that I can see test being availabe for the 70-200/f4 so using this camera was the best choice in my opinion.
The 28 points you're referring did the 70-200/f4 earn on the D88 which is full frame.

Hope that helps.


Reply
---
Added by

peevee

| May 04 , 2013

Canon lens vs Nikon lens

What cameras did you use for the test?

"comparing between these two on Canon and Nikon is not likely to help, though for the curious, you will note that the Canon scores are either equal or fractionally higher than the Nikon scores, though this is almost entirely down to the differences in the cameras rather than any inherent difference in the lenses for each mount."


It is probably sample variations in the lenses themselves - how many lenses did you test with each camera, just one? Sample variation can be quite significant - see lensrentals tests for examples.


Reply | Read all replies for this comment
First replies for this comment
---
Re: Canon lens vs Nikon lens

Hello!

Thanks for your comment.

You won't normally choose a camera system based on the performance of this lens, so comparing between these two on Canon and Nikon is not likely to help, though for the curious, you will note that the Canon scores are either equal or fractionally higher than the Nikon scores, though this is almost entirely down to the differences in the cameras rather than any inherent difference in the lenses for each mount.

Best regards,

The DxOMark team


Reply
---
Is there some thing wrong in your test

when i compare your tests i see there must be something wrong.
The Nikon 70-200 F4 ED VR get in this test 17 point overall score and in annother test that same lens get 28 point. Is there something i am missing here ?


Reply | Read all replies for this comment
First replies for this comment
---
Re: Is there some thing wrong in your test

oh i see, it is really a combination of lens and camera you are testing. So using a better camera will give a better score. When not using a D7100 to test the sigma 50-150 F2.8 you really give it a lower score than it deserve. Shame on you :((


Reply
---
Re: Is there some thing wrong in your test

Hello,

We always try to perform measurements for every available cameras. The last D3200, D5200 and D7100 lens results should be available soon.

Best regards,

The DxOMark team


Reply
---