Sigma 60mm f/2.8 DN A MFT and NEX mount lens reviews: High performance, accessible price
By Kevin Carter -
Tuesday July 30 2013
Lens Review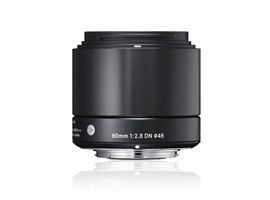 As a short telephoto prime for Sony NEX and Olympus and Panasonic cameras, the re-categorized A series Sigma 60mm f/2.8 DN prime fills a gap not yet occupied by the camera maker's own models. Read on to see how well this lens performs.
Sigma were the first to market with lenses designed specifically for mirrorless cameras, and uniquely, the DN series were made for both APS-C Sony NEX cameras and Olympus/Panasonic bodies with their even smaller MFT format sensors. As with full-frame models, the lenses have a different angle of view between the two different formats. The restyled A-category 60mm f/2.8 DN reviewed here is the equivalent to a 120mm on a MFT body but only a 90mm on NEX camera. Like the others in the DN series, the minimalist design and sheer physical size (in diameter at least) is also somewhat at odds with the rather conventional styling and compact dimensions of the Panasonic and Olympus cameras. Be that as it may, common to both mounts, the 60mm features a linear-AF motor for smooth and quiet focusing with a minimum focus distance of 0.5m and includes low dispersion glass and aspherical lens elements. The lens has a sticker price of a not unreasonable $239, regardless of mount.
Further readings for the Sigma 60mm f/2.8 DN A MFT and NEX mount lens reviews: High performance, accessible price
To provide photographers with a broader perspective about mobiles, lenses and cameras, here are links to articles, reviews, and analyses of photographic equipment produced by DxOMark, renown websites, magazines or blogs.
---
---
---
Comments
Added by

peevee

| August 04 , 2013

60 vs 60

Wouldn't it make more sense to compare Sigma 60/2.8 vs Olympus 60/2.8? Sure, the Sigma is not macro nor weather sealed, but otherwise is much closer match than to Oly 75/1.8.


Reply | Read all replies for this comment
First replies for this comment
---
Added by

josa

| July 30 , 2013

SIGMA

My NX doesnt take Sigma lenses....too bad!


Reply
---