Sigma APO 50-500mm f/4.5-6.3 DG OS HSM Nikon mount lens review: solid performance, accessible price
By Kevin Carter -
Tuesday August 20 2013
Lens Review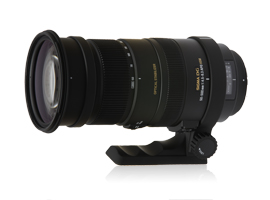 Sigma's range of telephoto zooms can put the premium marques to shame in terms of choice, and this one is not only hugely versatile but can boast stabilization and a ultrasonic type motor while also saving a considerable sum. But, just how well does it compare with the new Nikon 80-400mm VR? Read on to find out.
With more choice than either Canon or Nikon can currently offer, Sigma has an enviable range of telephoto zooms. Given the wider zoom range and a $1,659 price tag that comfortably undercuts the Nikon and Canon 80/100-400mm f/4.5-5.6 equivalents, this one sounds particularly tempting. Not only does this full frame lens boast an ultrasonic type (HSM) AF motor but it also has optical image stabilization, which Sigma claims allows shutter speeds of up to 4 stops slower than a non-stabilized model and a useful close focus capability of 1:3.1 set at 200mm. While the large 95mm filter size is rather restrictive price-wise (with polarizers especially), the optical construction is impressive with four low dispersion glass elements out of a total of 22 in 16 groups. Measuring 104.4x219mm and weighing 1,970g this lens is compact if somewhat weighty suitable for both full-frame and APS-C type (DX) DSLRs where on the latter it's the equivalent of a 75-750mm.
Further readings for the Sigma APO 50-500mm f/4.5-6.3 DG OS HSM Nikon mount lens review: solid performance, accessible price
To provide photographers with a broader perspective about mobiles, lenses and cameras, here are links to articles, reviews, and analyses of photographic equipment produced by DxOMark, renown websites, magazines or blogs.
---
---
Comments
Error in P-Mpix Map

Probably I was not clear enough in my previous post.
Here is a direct link to see this obviously erroneous P-Mpix Map:
http://goo.gl/PCBEKd

How to get this map:
http://www.dxomark.com/Lenses/Sigma/Sigma-50-500mm-F45-63-APO-DG-OS-HSM-Nikon-mounted-on-Nikon-D7100---Measurements__865
-> Sharpness
-> P-MPix Map

Please correct.
Regards,
Gerard


Reply | Read all replies for this comment
First replies for this comment
---
Probable error in the P-MPpix Map

<div id="linkdxomark">This a comment for <a href="http://www.dxomark.com/index.php/Lenses/Sigma/Sigma-50-500mm-F45-63-APO-DG-OS-HSM-Nikon">this page on the website</a></div>Hello,
Concerning the Sigma 50-500mm F4.5-6.3 APO DG OS HSM tested with the Nikon D7100, there is a strange P-MPpix Map (click on Measurements > Sharpness > P-MPpix Map). At 500mm, the performances improve drastically for very small apertures (more than F/22). It seems conflicting with physics law of diffraction ;-)
Link for checking:
http://www.dxomark.com/Lenses/Compare/Side-by-side/Sigma-50-500mm-F45-63-APO-DG-OS-HSM-Nikon-on-Nikon-D7000-versus-Sigma-50-500mm-F45-63-APO-DG-OS-HSM-Nikon-on-Nikon-D7100-versus-Sigma-50-500mm-F45-63-APO-DG-OS-HSM-Nikon-on-Nikon-D800___465_680_465_865_465_792
Regards,
Gerard




Reply
---
To those who wonder

I think the results of this lens are pretty damn good, the question about why the D800 scores lower than the D600 can be answered simply by the fact the D800 has 50% more pixels than the D600, more pixels is not always an improvement. It could be that the D800 sensor is closer to out resolving the the capabilities of the lens, and the lower pixel count of the D600 is more suited to the resolution produced by the lens.


Reply
---
No 400 mm testing on the Bigma

Hi,

Thanks for your review that I waited impatiently, but I must say that I'm baffled that you didn't test the 400 mm focal of the bigma; It makes comparison very tricky !

More generally I regret that the measure sare with those colors, I'd much prefer number that would be much more precise. At least as an option.


Reply | Read all replies for this comment
First replies for this comment
---
Added by

wisep01

| August 23 , 2013

Cherry-picked analysis

You owe it to your readership to address a perceived contradiction in your test results--the Sigma 50-500mm f/4.5-6.3 DG OS HSM Nikon mount lens secures a lower overall score and a lower sharpness (PMpix) score on the D800 than on the D600.


Reply | Read all replies for this comment
First replies for this comment
---
Added by

Toshik

| August 22 , 2013

margin of error or incorrection?

How can it be that mounted on 36mp D800 it scores lower (19 DxOMark Score, 13P-Mpix sharpness) than on 24mp D600 (20 DxOMark Score, 14P-Mpix sharpness)?


Reply | Read all replies for this comment
First replies for this comment
---
Added by

Bas

| August 22 , 2013

Nice suprise

Thank you very much for the review & test of the Sigma APO 50-500mm f/4.5-6.3 DG OS HSM Nikon mount!
Nice surprise to publish this directly after your vacation.
Any plans for testing the Sigma 150-500 for Nikon as well ?



Reply | Read all replies for this comment
First replies for this comment
---
Sigma "Bigma" Definitely a Bargain Lens and Pretty Sharp!

I have had this lens for well over 6 months and love it! It is pretty sharp through most of the range maybe a tad softer at the longest 500mm. The focus speed is zippy too! The only real major downside is the weight 4.2lbs. I agree with everything I read in this article and especially sharpness on the D800 as I own a D800 and D3s. Kudos for another well written article/review!


Reply
---