Sony 500mm f/4 G SSM review: The longest super telephoto prime lens ever tested by DxOMark
By Kevin Carter -
Thursday March 21 2013
Lens Review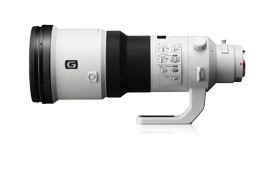 Sony is often quoted as having aspirations to rival Nikon and Canon but, since taking over the SLR business of Konica Minolta, has so far shown only a handful of pro-grade lenses. The SAL500F40G is one such lens, more popularly known as the 500mm f/4.0DG SSM, and with a price tag of $13,000 it's aimed squarely at professionals and well-heeled enthusiasts. We've had the opportunity to assess the new lens at our lab in Seattle, please read on to see how the new Sony performs and if it has what it takes to compete with the current Canon and Nikon duopoly.
Sony announced the SAL500F40G at Japan's premier imaging show CP+, staged in Yokohama in early 2012, though a prototype was premièred at CES in Las Vegas in 2011, alongside mock-ups of the to-be-released SLT-A77 and A33 models.
Made to order, the $13,000 500mm f/4.0 model is the longest focal length lens from Sony bearing the G-series moniker, once an indicator of premium quality lens designs from Minolta that Sony acquired back in 2006.
The optical construction is a modern design with no less than three ED glass elements plus internal focusing (for quick focusing and minimal disruption to the centre-of-gravity). It also features an ultra-sonic type SSM that's also compatible with the on-chip phase-detection AF mode of the top-flight SLT-A99 and Nano AR coating (a sub-wavelength type coating optimized for digital capture, reducing ghosting and flare).
To help lessen weight to relatively reasonable levels (it weighs in at 7 lbs 10 oz, or 3460g) the lens features a magnesium alloy body and it's both dust and moisture sealed.
Sharp-eyed readers may note that the lens doesn't feature image stabilization, but that's due to Sony SLT cameras adopting a stabilized sensor. On APS-C SLT type camera the lens is the equivalent to a 750mm f/4 (on a 35mm full-frame,), however, if combined with one of the Sony NEX models using the $400 LA-EA2 adaptor the combination doesn't benefit from being stabilized.
Further readings for the Sony 500mm f/4 G SSM review: The longest super telephoto prime lens ever tested by DxOMark
To provide photographers with a broader perspective about mobiles, lenses and cameras, here are links to articles, reviews, and analyses of photographic equipment produced by DxOMark, renown websites, magazines or blogs.
---
Comments
"Interesting" scoring...

DxOMark scores these lenses in 5 categories. When comparing Sony 500mm/4 to Nikon 500mm/4, using both companys' flagship bodies, a99 vs. D800, Sony has better scores in all 5 categories. Yet, Nikon gets a 25 score overall and Sony only rates a 22? What is going on that is not being shown here?

Readers should also compare the scores on the Canon 500/4, which seems to also come out short in the overall comparison after winning in 4 out of 5 categories, with a tie in the 5th.

Not sure that I want to continue to use DxOMark as an "unbiased" resource any more.


Reply | Read all replies for this comment
First replies for this comment
---
Added by

rexALT

| September 28 , 2013

qx

How is possible that A580 with this beast can score in sharpness only 5 P-MPix? I have seen that A580 body scores lower even than A550/A500 for 50mm F1.4 lens. And surprising this is one of the best sensor from Sony classical DSLR.


Reply | Read all replies for this comment
First replies for this comment
---
Added by

Mark K

| July 14 , 2013

500/4 compared

Using the data here at DxO mark, I compared the three 500mm lenses from Nikon, Sony and Canon using similar cameras, say D3x, A850 and 1DsIII. The results may surprise everyone including testers here: all three lenses are almost equally sharp. The transmission of Canon and Nikon is only 4.5T as compared that that of Sony 4.3T. I wonder how these critics drawn against Sony coming from a very scientific lab testers.


Reply | Read all replies for this comment
First replies for this comment
---
Sony 500mm f4 test review

<div id="linkdxomark">This a comment for <a href="http://www.dxomark.com/index.php/Lenses/Camera-Lens-Database/Sony/Sony-500mm-F4-G-SSM">this page on the website</a></div>I own the Sony 500 and the Minolta 600mm lens. I was disappointed about he sharpness and focusing. I called Sony and they advised me to use the micro adjustment .
I tried to calibrate the lens in my 45feet living room .It was sharp focus only indoor but it was still not focus well outdoor so I re-calibrated to focus at my backyard tree which is about 150feet from the house. Now it is so sharp and as sharp as my Minolta 600mm or better.Hope to hear from you.


Reply
---
Comparisons

Why do you compare this 500mm lens to the Canon's 300mm ?
This a comparison of apples and oranges, if you don't have nothing to compare with (I mean others 500mm), please do not compare.

And you should have used the A99 for this test, not the discontinued A900.


Reply | Read all replies for this comment
First replies for this comment
---
Use

You guys need to to use the SLT cameras (A99, A77) I know there is 1/2 stop light lost, but you can compensate for that in final scores.

It's ridiculous to be using 5 year discontinued cameras to "test" lenses.


Reply | Read all replies for this comment
First replies for this comment
---