Sony E 35mm f1.8 and Sony E 10-18mm f4: A Very Good Standard and a Wide Zoom
By Ben Boswell -
Thursday April 18 2013
Lens Review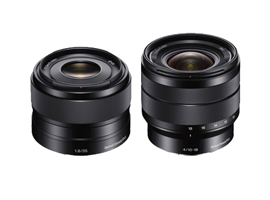 A battle rages in the hybrid camera sector between the Sony NEX Range with their APS-C sensors and the Micro Four-Thirds cameras. With interchangeable lenses for each the quality is not necessarily fixed when you buy your camera, you can upgrade the optics. In this first look at Sony E mount lenses, we are looking at their most recent additions, but we will look at others too, let us know which are most important to you.
We are looking here at two of the lenses that Sony produce for the NEX range of cameras, the E 35mm f1.8 and the E 10-18mm f4. The NEX camera's APS-C sensor has a factor of 1.5x to get the equivalent 35mm focal length making the 35mm into a 52.5mm and the zoom is equivalent to a 15-27mm. Both lenses have Optical SteadyShoot, Sony's image stabilization system.
The E 35mm f1.8 has 8 elements in 6 groups and incorporates ED (Extra Low Dispersion) glass and 2 aspherical elements. The E 10-18mm f4 also includes ED glass in its 10 element, 8 group design and has 3 aspheric elements.
In keeping with the way the NEX system works there are no controls on these lenses other than the manual focus ring, which can be used for full manual focus or to make fine adjustment during auto-focus operation. Of course the zoom lens also has a zoom ring. Apart from these rings the lenses are completely bare. The lenses look a little large mounted on a NEX body, but in fact they are a similar size to equivalents from elsewhere. The 35mm weighs 155g and the 10-18mm 225g.
Further readings for the Sony E 35mm f1.8 and Sony E 10-18mm f4: A Very Good Standard and a Wide Zoom
To provide photographers with a broader perspective about mobiles, lenses and cameras, here are links to articles, reviews, and analyses of photographic equipment produced by DxOMark, renown websites, magazines or blogs.
---
---
Comments
Added by

AndyB

| July 09 , 2013

Is the NEX7 a flawed sensor for lens testing?

I've just entered the NEX system, picking up a NEX6 camera with standard power zoom, and also partnering it with a Voigtlander 15mm, used with a Leica M adapter.

I specifically chose the NEX6 over the NEX7, as the behaviour of the NEX7 sensor in the corners appears to be extremely poor when partnered with lenses with small rear element to sensor distance. Examples I've seen of my Voigtlander on the NEX7 have been disappointing, yet the results I've had from the NEX6 have been excellent. Indeed the corner results on my NEX6 are far superior to the lens when used with my old Panasonic GX1, even though the smaller sensor on that might imply less corner issues.

My question would therefore be whether the NEX7 is a wise choice for lens testing, when Sony's newer cameras appear to have a much better anti-aliasing filter/micro lens/filter formulation which fixes these corner softness issues.



Reply | Read all replies for this comment
First replies for this comment
---
Sharpness Comparison With M43

I wonder if the sharpness comparison made here is fair since the NEX7 carries a 24MP sensor yet the Lumix carries a 16MP sensor, i.e. if they have the same score of 9MP does that mean the Lumix G lens is actually sharper? I know system-wise the score is objective, but I believe more credits should be given to the Lumix G lens engineers for making sharper optics.


Reply | Read all replies for this comment
First replies for this comment
---
E Mount Lens test finally!

Please test the SEL18200 (The big silver one) vs SEL18200LE(Narrower black one). The SEL18200 is the older one but reviewers say that is the slightly sharper one!

Also Carl Zeiss 24mm/F1.8 (SEL24F18) would be nice, I bought the SEL35F18 over the CZ 24mm because the Sony one has Image Stabilization which helps in low light and because it was half the price of the CZ!!!

So very curious how much sharper the CZ actually is.

Thanks for teh review and keep up the great work!


Reply | Read all replies for this comment
First replies for this comment
---
First replies for this comment
---
Other E-mount lenses to test.

At lest E-mount lens test on DXO! long awaited! Great!

I would be very interested in a test of SEL-P1650 (16-50 pancake power zoom)... but be carrefull! Some user forum reports some specificities that should be validated by profesional testing:
The pure optical quality semms to be not great (it's a "kit lens" and moreover it's pancake, for APS-C... something unic on the market that can only be compared with Pany PZ pancake), but the lens usability seams to be great thx to in-body automatic correction (for jpg) or automated software profile for RAW.

Some people reported the real optical "wide angle focal lengh" is in fact wider than 16mm (maybe 14mmm or 15mm), so this give a real 16mm equivalent after software correction! I expect a "profesionnal" test to confirm or invalidate this with precise measurments... and consider it in the overal jugement of the lens (the lens is sold as a 16mm wide, so it should be evaluated for it's 16mm performance... not for performance at a focal lengh it's not sold for).


Reply | Read all replies for this comment
First replies for this comment
---
Added by

DtEW

| April 19 , 2013

Other E-mount lenses to test...

I think people would be interested in knowing about:

SEL24F18 - the Carl Zeiss prime, the most expensive lens in the lineup
SEL50F18 - the seemingly-weird FL prime that has gained a cult following and possibly the NEX's best low-light lens (perhaps now shared with the SEL35F18)

It would also be a good idea to also have a set of tests using the F3/3N/5N/5R/6 16mpx sensor as well, as that is the NEX's most-prevalent sensor.


Reply | Read all replies for this comment
First replies for this comment
---
E-mount Lenses and Cameras

I'm interested in seeing SEL50f18 and also, how the performance of the lenses compares on the Nex 5 series camera which, as I understand it, has different microlensing.


Reply | Read all replies for this comment
First replies for this comment
---