Sony E PZ 18-105mm F4 G OSS lens review: Attractive option
By Kevin Carter -
Friday November 20 2015
Lens Review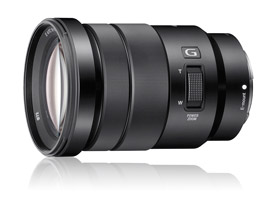 Another Sony lens that's not new, exactly, but one we've been asked in our forums to review is the Sony E PZ 18-105mm F4 G OSS. Featuring the maker's G moniker indicating high-end construction, this stabilized 28-164mm equivalent has been designed for the maker's APS-C format mirrorless models and is an intriguing addition to the lineup. Read on to find out how well this model performs.
Specifications and Features
Debuting back in 2013, the Sony E PZ 18-105mm F4 G OSS is a moderate-speed E-mount zoom designed for the Sony APS-C format mirrorless models. Intriguingly, it features the old Minolta G-moniker implying high-end optical construction on par with Canon's L series and Nikon's ED range. As the equivalent to a 28-164mm zoom, it has a 5.8x zoom range and features two ED glass elements and no less than three aspherical surfaces. It is, however, the inclusion of optical stabilization, a constant /f4 maximum aperture throughout the range, and a power zoom option that shows it is a zoom that is particularly suited to video users.
Besides the fixed or variable-speed zooming and constant maximum aperture, it has a stepper-type focusing motor, and circular aperture opening consisting of 7 blades for rendering rounded highlights and smooth transitions to out-of-focus areas when using differential focus. The optical construction consists of 16 elements in total arranged in 12 groups, and a minimum focus distance of 1.48' (45cm). With a 72mm filter diameter, the lens measures 4.33 x 3.07" (110 x 78mm) and weighs 15.06 oz (427g). It is available for around $599 (USD).
Specifications
16 elements arranged in 12 groups
F4 constant aperture
Stabilization
Stepper-type motor
Three aspheric surfaces
Two ED glass elements
72mm filter diameter
7x circular aperture blades
1.48' (45cm) minimum focus
Further readings for the Sony E PZ 18-105mm F4 G OSS lens review: Attractive option
To provide photographers with a broader perspective about mobiles, lenses and cameras, here are links to articles, reviews, and analyses of photographic equipment produced by DxOMark, renown websites, magazines or blogs.
---
Comments
Vignetting and onion effect normal?

I observed severe and non correctable vignetting and onion effects (mainly at 18mm F4) e.g. in sunrise/sunset situations. These are really distracting in the corrected JPGs and in the Lighroom corrected RAW files. Sometimes the vignetting is assymetric so you need photoshop to correct this. A lot of photographes are unuseable. The first copy of the lens I send back to the dealer, the second copy showed the same vignetting. I send the this second lens to a Sony service without a repair was done. Is this the usual performance of this lens? The problem is that there are no alternatives on the market.

Samples: https://www.dropbox.com/sh/4w7yprgxbw5tmf1/AACR4ZKbBV4CqvltH1H88mcfa?dl=0


Reply | Read all replies for this comment
First replies for this comment
---
Re: Vignetting and onion effect normal?

Quote:


The first copy of the lens I send back to the dealer, the second copy showed the same vignetting. I send the this second lens to a Sony service without a repair was done. Is this the usual performance of this lens?


I may be wrong, but I'm afraid so. AFAIK Sony has a longstanding reputation for making really shitty lenses that don't even deserve their modest asking price, and they're just recently trying to catch up by throwing money at the problem, i.e. by offering standard lenses for 2000ish prices.

Yours is a Sony lens offered for 500 Euro. I wouldn't expect more than the performance of a Coca-Cola bottle from that.


Reply
---
Added by

GG

| November 26 , 2015

Sony E PZ 18-105mm F4 G OSS, test and review

Thanks for the review.

It looks like this lens has been designed with digital photography in mind. It provides good sharpness at the expense of aberrations that would not make sense in film photography but can easily be corrected in software.


Reply
---
Roadmap

Hi all,
We would like to extend our sincerest apologies for the disturbing modification of our tests production & delivery schedule, and for the lack of presence on this forum lately, leaving some of our readers with unanswered questions.
For your information, these tests are not planned yet, and the Sony E PZ 18-105mm F4 G OSS should not be reviewed in the short run.

Sorry for the inconvenience.
Best regards


Reply
---
Any review planned for SEL18105 on A6000?

<div id="linkdxomark">This a comment for <a href="http://www.dxomark.com/Lenses/Sony/Sony-E-PZ-18-105mm-F4-G-OSS">this page on the website</a></div>Many users already waiting for the review. Please let us know if it is planned


Reply
---
Added by

Metol

| February 23 , 2015

Revisión

No entiendo por qué un objetivo anunciado el 27-08-2013 no ha sido aún analizado en esta prestigiosa página. Creo que, a priori, tiene un rango de focales muy interesantes y puede ser un objetivo esencial para muchas personas.

En todo caso, muchas gracias por la existencia de la propia página.

****
(I do not understand why a lens announced 27.08.2013 has not yet been analyzed in this prestigious site. I believe, a priori, it has an interesting range of focal characteristics and can be a key objective for many people.

In any case, thank you very much for the existence of the page itself.)


Reply
---
Review

I'm sure you all are plenty busy with new products coming out, but I would still love to see if review of this lens on the a6000. Maybe the 16-70/4 zeiss too, since they are often compared, although you do not have that one listed.


Reply
---
Added by

kyaos

| October 18 , 2014

avis sur le Sony E PZ 18-105mm F4 G OSS

Bonjour je souhaite acheter cet objectif et je vois qu'il est compatible avec le boitier alpha 6000 dans DXO. Donc il vous a fallu i'étudier pour apporter des corrections. Alors pourquoi pas d'avis?
Cordialement



Reply
---
First replies for this comment
---
Re: Please review!

Hi,

Thank you for contacting us and for your suggestion. We did not list this lens in our road map for now, so we advise you to stay tuned.

Best regards


Reply
---
First replies for this comment
---
Re: Any review soon ?

Hi Fernand,

Thank you for your active participation to this forum! For your information, these tests are not planned yet. Best regards.


Reply
---