Sony FE 70-200mm F4 G OSS lens review: Classy contender
By Kevin Carter -
Friday April 04 2014
Lens Review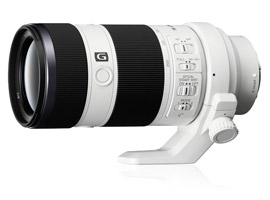 One of the four lenses announced at the time of the introduction of the Sony A7 and A7R, this high-grade G-series telephoto zoom looks like a promising addition to the range. Read on to find out how well it performs on the 36-Mpix Sony A7R.
The Sony FE 70-200mm f4 G OSS is the last model to be released of the initial four lenses announced specifically for the full-frame mirrorless 36-Mpix A7R and 24-Mpix A7 models. This is the first model in the system's line up not made in-conjunction with Zeiss. However, as a G-series model it promises both high-grade construction and superior optical quality.
Like the other models in the line-up it's intended for enthusiasts and has a complex optical construction consisting of a total of 21 elements in 15 groups and adopts both Super ED and ED glass as well as heavily contoured, molded aspherical lenses. The zoom also features the firm's Nano AR coating for improved clarity and contrast and built in image stabilization but eschews the firm's piezoelectric – sonic - type AF motor for a dual linear step-less type for smooth operation during video capture. Barrel-mounted focus-hold buttons and focus limiter functions, as well as a dust and moisture resistant construction add to the practicality of a lens like this.
Unsurprisingly as a FE-mount model it's also compatible with the firm's earlier APS-C format NEX models (and current Alpha mirrorless models) where it's the equivalent to a 105-300mm. The lens has a fairly standard minimum focus distance of 39.3" (1m), adopts a 72mm filter thread and measures approx. 3.15 x 6.89" (80 x 175 mm) – roughly the same as similar spec'd models for FF DSLRs. Nor has Sony been able to make any real savings in weight, unfortunately, weighing in at 29.63 oz (840 g). The new lens is available for pre-order at $1,499, albeit including a removable tripod collar.
Further readings for the Sony FE 70-200mm F4 G OSS lens review: Classy contender
To provide photographers with a broader perspective about mobiles, lenses and cameras, here are links to articles, reviews, and analyses of photographic equipment produced by DxOMark, renown websites, magazines or blogs.
---
---
---
Comments
Sony FE 70-200mm F4 G OSS

This is the best website with lot of useful information for the reader
http://recordcanon.com/


Reply
---
Added by

yepee9

| January 16 , 2016

performance on sony a7

is there any method to calculate an estimated p-mpix for sony a7 body?

for example if a lens have a 16 p-mpix score for score a7R, what would be the (estimated) p-mpix value of the same lens on sony a7 body ?

In theory if a lens has value of 16 p-mpix on a 32mpix sony a7r is it right to assume that it will perform at 12 p-mpix on a 24mpix sony A7?


Reply
---
In practice, f10 or higher will be better

I recently bought the FE 70200 G OSS. I use it on my NEX-7, and I am very impressed with it. Compared to the SEL18200 I had been using, this 70-200 G lens is quite a bit sharper at any focal length it covers. Below 70mm, theSEL18200 is still probably just about as sharp as any other zoom you can put on the APS-C camera, although primes are a different story of course.

I had done some tests to find the best aperture setting for the 70-200 G at 200mm. The test target I used at first was an antenna tower a couple hundred feet away, jam-packed with antennae and cables and all sorts of stuff. When I compared my findings with the graph seen here, there was a big discrepancy. After thinking it over, I decided that I had allowed depth-of-field to influence my findings. I dug out some old 35mm slides, and picked out one with sharp lines and corners, then taped it to the window. Different findings now, and consistent with what is shown here.

At 200mm, f4 is to be avoided, but most all of the blurriness is gone by f4.5. From f5.6 through f8 there was almost no perceptible change, and only a very slight decline in sharpness at f9, barely perceptible. Even at f11 you had to look for the loss of sharpness to see it. At f14 it was more obvious. I think that the graph here exaggerates the differences, not because of anything related to the metric that DxOMark uses, but because perceptually, one lens has to be nearly twice as sharp as another before the difference is readily apparent. This probably is true for sensor resolution as well.

For this lens, if you need any depth of field at all, f10 and f11 are best, notwithstanding what this graph suggests. f13 and f14 are still good, if you need depth of field.


Reply
---
Great Lens

Just received my copy of this lens. It is wonderful to work with. Sharpness and other image qualities are eye popping. Worth every penny.


Reply
---
Test on A6000

Hello,
When is a test expected on A6000?
Thank you


Reply
---
perceived Mpix needs re-definition / re-weighing?

Hello,
do I interprete it right that the higher pMPix value of the Sony lens compared to the Nikon lens is mostly (neglecting the effect of the anti-aliasing filter) due to the fact that the Sony does not offer so high aperture values (i.e. small apertures)?
All the best,


Reply | Read all replies for this comment
First replies for this comment
---
Waiting on this lens ?

If you preordered from B&H you will be waiting a little longer. It's passover and the lens will be delayed a week +.

http://www.bhphotovideo.com/c/product/1029862-REG/sony_sel70200g_70_200mm_f_4_5_6_g_lens.html




Reply
---
First replies for this comment
---
Added by

DBM

| April 05 , 2014

70mm: worse at 5.6 then better again at f8??

Ad odd feature: according to your field map at 70mm it's uniform at f4; quite a bit less so at f5.6 where the edges go down at 60% and then bounces back again at f8 to be fine!!!

That's very odd. Can you confirm it's just not a data entry error?

thanks for the useful review. Looks very useful: I'll get one asap.


Reply | Read all replies for this comment
First replies for this comment
---