Sony SLT A35 image quality review
Thursday August 04 2011
Sensor Review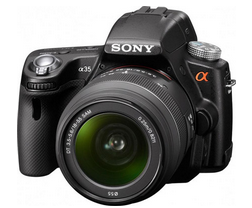 Sony announced this "Translucent Mirror Technology" reflex camera in early June 2011.
The aforementioned technology, already featured on the Sony Alpha 33 and Sony Alpha 55 consists in allowing you to shoot on continuous-shooting mode (or burst mode) without the shutter-induced strobe effect. In layman's terms you do not see the shutter occlusion in the viewfinder.
This camera can be regarded as the evolution of the Sony Alpha 33 and in its interior, encased in a polycarbonate resin body we find the acclaimed Exmor CMOS sensor that that powers other Sony offerings such as the high-scoring Alpha 580.
It boasts an electronic viewfinder dubbed "Tru-Finder, (Xtra Fine)" with 1.15 million dots effective resolution and a 100% frame coverage, according to Sony's press release.
 Same results as the SLT A55, better than the previous A33
 No news here, this camera has given us the same test results as the SLT A55.
On the other hand, when compared to the Sony A33, the newest model delivers a better performance on lowlight.
To prove it we have made the following side-by-side comparisons:
The translucent mirror, great feature at a price
Since the translucent mirror used on this model is static, light makes an inevitable passage through it therefore having an impact on the camera's transmission, we lose between 1/3 and 2/3 stop, which -unless a more translucent material is found- is the best Sony could come up with.
Nevertheless, those interested in shooting video with this camera will find it a fair compromise.
Being the only company to propose the Translucent Mirror Technology we could say that this is a unique feature, already marketed by Sony as "exclusive".
 See the following comparisons with cameras that use the same sensor chip.
Further readings for the Sony SLT A35 image quality review
To provide photographers with a broader perspective about mobiles, lenses and cameras, here are links to articles, reviews, and analyses of photographic equipment produced by DxOMark, renown websites, magazines or blogs.
---
Sensor Review
|
September 23, 2011
When the Sony A77 was announced a couple of weeks ago as a replacement for the Sony Alpha 700, Sony's semi-professional APS-C camera, we were all very impressed by its specifications. So we were really excited to see how it would perform in our tests.

Here are our results.
---
---