Tamron Lens SP 70-200mm F/2.8 Di VC USD (Nikon mount) review: High performance and excellent value
By Kevin Carter -
Thursday June 13 2013
Lens Review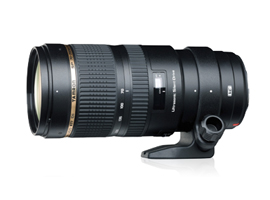 Tamron's latest 70-200mm f/2.8 is the first from the firm to feature image stabilisation (VC or Vibration Compensation, as Tamron calls it) and is now available in with a Nikon mount. After the Canon mount, read on to see how it performs on the high resolution Nikon D800.
Appealing to sports and action photographers as well those who use the immensely versatile range for portraits, the Tamron SP 70-200mm f/2.8 is a rightly popular lens. Invariably though it's a pricey option, especially with built in ultrasonic type AF motors, weatherproofing and image stabilization. Until recently, more affordable models lacked some or all of these features. However, while the new Tamron SP 70-200mm f/2.8 Di VC USD sees a substantial increase in price (up from $770 from the non-VC version to $1,699), it's still more accessibly priced than the Nikon (or for that matter the Canon) versions.
Further readings for the Tamron Lens SP 70-200mm F/2.8 Di VC USD (Nikon mount) review: High performance and excellent value
To provide photographers with a broader perspective about mobiles, lenses and cameras, here are links to articles, reviews, and analyses of photographic equipment produced by DxOMark, renown websites, magazines or blogs.
---
---
Comments
Strange Results

I'm curious. The D500 is a 24 MPix camera. However, here it's only rated at 14 PMPix.
A similar result is shown for the D7100 which is also a 24MPix. The D750 on the other hand rates at 21 PMPix. All with this exact same lens. Why this difference?
It's true that they have a 1.5 times smaller sensor. However, these cameras have very small pixels about 4um 1.5 times smaller than the D750 (6um). Which gives them a 1.5 greater resolution. This can be verified by measuring MTF. In addition, these smaller sensors look at a smaller image circle. Most lenses perform better towards the center. So this should give these cameras a little extra advantage on sharpness. Can anyone explain why DXO rates these cameras much lower in sharpness? Maybe someone for DXOMark?


Reply | Read all replies for this comment
First replies for this comment
---
Wedding Photography

Anyone used this to shoot any Weddings... indoors and outdoors? How were the results?


Reply
---
Tamron 70-200 F/2.8 VC with a Teleconverter

Dear All,

Has anyone had any luck with using a teleconverter on the Tamron 70-200 on a Nikon using the AF? I have tried both the Tamron converter and also the Kenko but no luck.

Thanks


Reply
---
Tamron VC series tests with Nikon D750

<div id="linkdxomark">This a comment for <a href="http://www.dxomark.com/Lenses/Tamron/Tamron-SP-70-200mm-F28-Di-VC-USD-Nikon">this page on the website</a></div>Hi,
I'd like to know the results of those lens (Tamron 24-70 2.8 and 70-200 2.8 VC series) mounted on Nikon D750.
I think this could be a good pairing...

Is it planned to have those test and results ?
Thanks


Reply | Read all replies for this comment
First replies for this comment
---
Added by

aru777

| December 18 , 2013

Not updated on D800 best lenses page

Why isn't this updated on http://www.dxomark.com/Reviews/Which-lenses-for-your-Nikon-D800/The-Nikon-D800-and-telephoto-lenses ?



Reply | Read all replies for this comment
First replies for this comment
---
Exceptional optical quality

An lens with exceptional optical quality is super sharp at 2.8.
Focus is almost instant and without noise.
Very good in low light. Colours are very good with a good contrast.VC does its job very well.

Some examples of photos you can see here
http://www.csdany.com/Private/Tamron-70200-VC-with-Nikon-D70/n-mvr3Z/i-MhnVDwX


Reply
---
Added by

MAXW70

| August 06 , 2013

Tamron SP 70-200mm F/2.8 Di VC USD Nikon

Thanks DXO for the test!

Tamron passed Nikon's top lens!?
Lower price, even better quality.
I'm a Nikon, but well done Tamron!
Of course this Tamron lens also will be part of my lens collection.


Reply
---
Added by

ddxxoo

| June 17 , 2013

If you care about weight...

For field use, I'd still pick the f4 Nikon as it's a full 620g lighter than the Tamron and 690g lighter than the f2.8 Nikon.

But, if you need the extra stop and don't mind the extra size and weight...

Good to see some more competition at the high quality end of the scale though.


Reply
---
Added by

josa

| June 14 , 2013

Tamron

Impressive!


Reply
---
Tamron 70-200

Thanks a lot for this test!


Reply
---