Tamron SP 24-70mm f/2.8 Di VC USD (Nikon) review: An affordable 'fast' standard zoom that comes out on top
By Paul Carroll -
Monday April 22 2013
Lens Review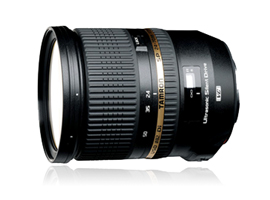 Launched in February 2012 the Tamron SP 24-70mm f/2.8 Di VC USD is a 'fast' standard zoom available in Nikon, Sony and Canon lens mounts. On full frame DSLRs its wide-angle through to short telephoto focal range is ideal for general use photography, and featuring Tamron's VC image stabilisation system, as well as a fixed f/2.8 maximum aperture, its low-light credentials are pretty hot, too.
Tamron's SP, or 'Special Performance', range is targeted at the pro market and the Di suffix identifiesTamron lenses optimized for full frame DSLRS, although they're compatible with APS-C cameras too.
The SP 24-70mm is well specified featuring a fixed f/2.8 maximum aperture, Tamron's USD, or Ultra Silent Drive, motor for quick and quiet autofocus and their VC, or Vibration Compensation, image stabilization system.
Although not cheap the $1299 price tag is more affordable than own brand options like the $1887 AF S Nikkor 24-70mm f2.8 G ED and, as you'd hope at this price, build quality is good including weather sealing, a zoom lock switch and a large 82mm filter thread, although the manual focus ring is fairly narrow.
The optical arrangement features 17 elements in 12 groups, including elements and coatings to reduce aberrations and improve image quality, so let's take a look at how it performs.
Further readings for the Tamron SP 24-70mm f/2.8 Di VC USD (Nikon) review: An affordable 'fast' standard zoom that comes out on top
To provide photographers with a broader perspective about mobiles, lenses and cameras, here are links to articles, reviews, and analyses of photographic equipment produced by DxOMark, renown websites, magazines or blogs.
---
---
Comments
Tamron focus breathing and contrast

Why nobady care about contrast and focus breathing? Tamron have Terrible contrast and focus breathing. And the focus needs differemt calibration for 24-50mm and 50-70mm.
Sorry for my bad English :)



Reply
---
use with the on camera flash in iTTL mode

I am looking to buy this lens. I do a lot of flash photography. Is it possible to use the lens while using the on camera flash in iTTL mode? Does Tamron 24-70 convey the lens focal length to the speedlight mounted on camera (iTTL)? I ask this because I read somewhere that third party lenses do not convey the lens focal length to the flash for use in iTTL metering mode. Thanks.


Reply
---
Sharpness issue on Tamron SP 24-70mm f2.8

Thank you DXO what a great resource you are!

I'm confused on your statement: A sharpness score of 17 P-Mpix is impressive in terms of the direct competition again ranking 1st for pro standard zooms, ahead of the Nikon 24-70mm with 15 P-Mpix, and Sigma 24-70mm with 16 P-Mpix.

Considering the huge 36-megapixel sensor in the D800 however a sharpness score of 17 P-Mpix is less than half of the camera's resolution and put into that perspective is less impressive. So whilst the Tamron SP 24-70mm f/2.8 and pro standard zooms in general – offer good features, build and versatility, lenses that cover such a focal range with a large fixed maximum aperture aren't the sharpest.

Are you saying that Tamron is the best of the lot BUT only Prime lens can take advantage of the 36mp sensor? Thanks! Rich


Reply | Read all replies for this comment
First replies for this comment
---
Nikon 24-70mm 2.8 G ED on Nikon D3200

Hows its Quality and performance ?? It not having VR on a lens. Does it affect if i try to shoot at moderate shutter speeds Hand held.I am worrying about the risk of blurrs.


Reply
---
Is Tamron SP 24-70mm F2.8 compatible with Nikon D-90

Can you confirm if Tamron SP 24-70mm F2.8 is compatible with Nikon D-90 and if you can show any test results?


Reply | Read all replies for this comment
First replies for this comment
---
Not a pro lens

I own a nikon 24-70 and use it professionally.
I cannot recall a single time I need VR for it.
The Nikon is built like a truck and the lens quality is outstanding.
I am sure the Canon is the same.
I do not understand how the Nikon misses focus, as every shot needs composition and in that instant, the lens focuses.
When you spot focus and not have your camera set on 'professional' you do not have focus issues.
The Tamron has an extending pump barrel, a feature that sucks in dust.
A feature best reserved for lower use lenses.
I work in dusty environments so the Tamron would never make my short list.
I am sure the Tamron is a great lens, but not to be carried away by hype from users who may also be employees of Tamron.


Reply | Read all replies for this comment
First replies for this comment
---
Added by

skp

| April 26 , 2013

uContrast

Hi, how do you consider uContrast and flare resistance while scoring?
Pro Nikkor's generally blew away others by their uContrast, bokeh, build, flare resistance, weather seal and more importantly service-ability.


Reply | Read all replies for this comment
First replies for this comment
---
Tamron at longer distances

I was wondering if you have tested this lens at longer distances?
Is this part of you testing regimen? Or do you only do the tests in a small lab?

In my experience it was fine when focused close but when you focus on objects that are far away the Nikon lens blew it out of the water. It could be that I had a bad copy but I have seen the same conclusion on other websites.


Reply | Read all replies for this comment
First replies for this comment
---
Added by

Toshik

| April 22 , 2013

tamron 24-70

A DxOMark Overall Score of 29 ranks the Tamron 1st for image quality on professional standard zooms, just pushing the own brand Nikon 24-70mm f/2.8G AD into second with 28 points, and is well ahead of the Sigma 24-70mm f/2.8 IF EX DG HSM with 23.

It's Nikon Nikon 24-70mm f/2.8G ED, not AD.


Reply | Read all replies for this comment
First replies for this comment
---
Added by

josa

| April 22 , 2013

Tamron

Those who knows shoot with Tamron...


Reply
---