Tokina AT-X 16-28 F2.8 PRO FX review: a Tokina wide-angle lens
Thursday June 23 2011
Lens Review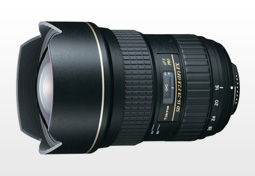 Here are the first results for Tokina's wide-angle lens. This lens was launched last year and works on Nikon cameras (Tokina AT-X 16-28 F2.8 PRO FX Nikon) and on Canon cameras (Tokina AT-X 16-28 F2.8 PRO FX Canon).
Here at DxOMark, we are celebrating the first anniversary of our lens test results section (launched on June 22nd last year).
The data on which this review is based marks the 1,700th camera/lens combination available in our database.
We would like to take this opportunity to thank you for your support.
The following links will take you to the main test results and comparisons available for:
Further readings for the Tokina AT-X 16-28 F2.8 PRO FX review: a Tokina wide-angle lens
To provide photographers with a broader perspective about mobiles, lenses and cameras, here are links to articles, reviews, and analyses of photographic equipment produced by DxOMark, renown websites, magazines or blogs.
---
---