Tokina AT-X M100 AF Pro D 100mm f2.8 Nikon mount lens review: Excellent all-round performance
By Kevin Carter -
Tuesday December 10 2013
Lens Review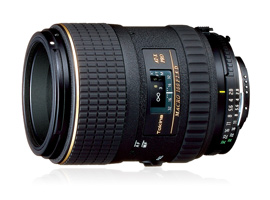 Although not a new lens we've had the opportunity to test the Tokina AT-X M100 AF Pro D in Nikon mount, a dedicated macro lens complete with a manual aperture collar. Manual selection of the aperture is an important feature with Nikon users as it allows unrestricted use with extension rings. Read on to find out how well it performs.
When Nikon followed rival Canon and removed the aperture collar on their G-series lenses, the firm overlooked updating their range of extension rings with the necessary / crucial CPU contacts. This is a perplexing situation for hardcore macro enthusiasts looking to achieve magnifications in excess of 1:1 life size, as when attached to Nikon made extension rings the G-series Micro Nikkor lenses can only be used at full aperture.
Perhaps that's why Tokina has left this full-frame model untouched. As AF-D type lens it has a aperture collar like those older Nikkor models and yet has modern coatings to reduce flare and ghosting from internal reflections most notably from the sensor's surface.
Although it doesn't have any ED glass or stabilization it's a well-built metal-barreled lens intended for professional use. It has 9 elements in 8 groups that focuses down to a 0.3m (1 foot) minimum at 1:1 (life-size) magnification, weighs 540g (1.19 lb) and costs a not unreasonable $449.
Further readings for the Tokina AT-X M100 AF Pro D 100mm f2.8 Nikon mount lens review: Excellent all-round performance
To provide photographers with a broader perspective about mobiles, lenses and cameras, here are links to articles, reviews, and analyses of photographic equipment produced by DxOMark, renown websites, magazines or blogs.
---
Comments
Full Aperture

What does "full aperture" mean?


Reply
---
Added by

Jylppy

| February 23 , 2014

How does camera MPx impact on P-Mpix?

Which one is sharper, Tokina 100mm or Sigma 105mm F2.8 EX DG OS HSM?

Tokina gets 19 P-Mpix on D800, but only 15 P-Mpix on D3X

Sigma 105mm gets 17 P-Mpix on D800 and 16 P-Mpix on D3X

How do you explain this? Is this due to sample variation among different lenses or what is a reason that one lens is sharper on high-Mpix camera and another on lower M-pix camera?


Reply | Read all replies for this comment
First replies for this comment
---
Re: How does camera MPx impact on P-Mpix?

Hi Kumajiroh,

Thanks for your comment and your support to DxOMark. The Tokina is slightly sharper on the D800 sensor. On the D3x sensor, scores are very close. In this case the rounded increase differences.


Reply
---
How do you calculate overall score ?

I already posted about this here
http://www.dxomark.com/Reviews/Best-lenses-for-Nikon-D610-Short-telephoto-and-standard-focal-lengths/Best-standard-zoom-lenses-for-the-Nikon-D610

But I still don't get it...

The Tokina is better than the Nikon in every sub-category (especially sharpness), except same score for chromatic aberation.

But in overall, the Nikon has a better score. How is it possible ? What is the criteria we don't see ?


Reply | Read all replies for this comment
First replies for this comment
---
Added by

Toshik

| December 15 , 2013

Re: How do you calculate overall score ?

You're right, but at full aperture, the Tokina is slightly less sharp than the Nikkor lens and it can't match that model's uniformity, so they lowered overall score for Tokina for this issue.


Reply
---