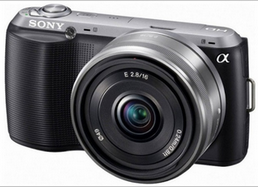 As you may already know, this latest edition in the NEX series is a compact camera with a newly-developed APS-C 16.2-megapixel sensor, at a size normally destined for DSLRs.
What makes this camera special is that its large sensor is housed in one of the smallest bodies on the market.
With this mirror-less interchangeable-lens camera, Sony brings very good news to those who are looking for a compact that performs more like a DSLR in terms of image quality.
With this launch, it seems that Sony is adding an extra rung on the "consumer to pro-sumer" ladder as some may skip buying a DSLR altogether, preferring to remain on the compact side while enjoying DSLR-quality images.
The NEX-C3 is offered as a kit that comes with a 18-55mm E-mount lens.
Stay tuned for the upcoming image quality review for the NEX-C3 on DxOMark! Meanwhile, take a moment to read the reviews for the Sony NEX 5 and NEX 3 (Sony's previous NEX offerings), along with our previous article about the sensor technology of APS-C-equipped cameras.