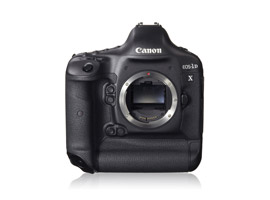 By replacing two predecessors with the Canon EOS-1D X, its new flagship professional DSLR, Canon hopes to deliver both the top-notch image quality of the studio-oriented Canon EOS 1Ds Mark III and the superfast performance of the Canon EOS 1D Mark IV sports shooter. A compromise of sorts between speed and image quality, the 1D X manages to deliver enough improvements to satisfy both markets.
Canon shook up its digital SLR lineup last year when it announced the Canon EOS-1D X, by positioning it to replace two of its professional DSLRs. Not only did the full-frame 1D X replace the top-of-the-line Canon EOS 1Ds Mark III, but by speeding up performance significantly, Canon also positioned the camera as a replacement for the sports-oriented Canon EOS 1D Mark IV, a less-expensive model with a smaller sensor.
By dropping resolution on its full-frame CMOS sensor to 18-megapixels (a compromise between the 1D Mark IV's 16.1-megapixel APS-H sized sensor and the 1Ds Mark III's 21.1-megapixel full-frame sensor), not to mention its new Dual Digic 5+ processors, the 1D X is able to shoot at even faster rates than the speedy 1D Mark IV—12 fps continuous shooting (or 14 fps JPEG-only with mirror lock and ISO under 32000) compared to the 1D Mark IV's 10 fps.
Released this summer after several delays, the 1D X also beefed up the camera's autofocus and autoexposure systems with a third processor, a Digic 4 dedicated to AF and metering control. The broad sensitivity range (ISO 100 to 51,200) can be pushed to ISO 204,800 in enhanced modes to further improve low-light performance. (You can read more about the EOS-1D X's new and updated features here.)