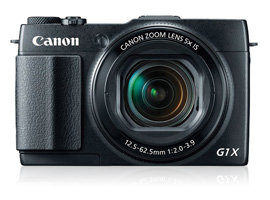 Canon has completely revamped their large sensor G1X compact. Read on to find out if this is enough to compete with rival offerings.
Announced in February 2014, the G1X II is a significant revision of the G1X from early 2012. Like its predecessor the G1X II has an unusually large CMOS sensor – a 1.5" type, which is somewhere between Four Thirds and APS-C - the largest currently used in a compact camera with a fixed zoom. Canon has taken an unusual route with a large sensor and lowered the pixel count slightly from 14-Mpix in the G1X to 12.8-Mpix in the Mark II. They've also revised the body, removing the optical viewfinder completely while using the opportunity to add an optional 2.36-M dot tilting EVF as a $299 extra. To the rear Canon has added a tilting 1.04-M dot touch screen LCD, while at the front the G1X II has a much more attractive zoom. Like its sibling, the zoom is stabilized but has a new wider 24-120mm range of focal lengths (up from 28-112mm equiv,) and a 1-stop brighter f2-3.9 maximum aperture (from f2.8-5.8).
Given the camera's potential for video, features seem a little underpowered with the new model offering 1080p at just 30fps only. The Canon G1X II measures 4.6 x 2.9 x 2.6" (116.3 x 74.0 x 66.2mm) and weighs 1.22 lb (553g). It is available now at $799.
Key specifications
12.8-Mpix 1.5" type CMOS sensor
24-120mm equiv. f2-3.9 IS zoom
3.0-inch 1.04-M dot tilt touchscreen LED
Full HD (1080p) at 30fps only
31-point AF with 5.2 fps continuous burst
Wi-Fi connectivity with NFC
2.36-M dot electronic viewfinder EVF-DC1 (optional)