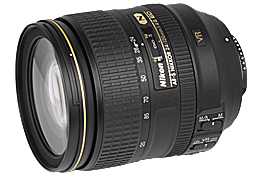 As with some other newly-launched Nikkor lenses, this brand-new 24-120mm lens features a constant f/4 aperture. This is a very nice improvement over the 24-120mm f/3.5-5.6G ED IF, as the new lens should be able to gather twice as much light at 120mm than the old one.
The construction of the lens has also been improved and refined: if it still counts 13 groups, the number of optical element now reaches 17 (15 on the old model). For this lens, Nikon used its Nano Crystal Coat to reduce or eliminate internal reflections and thus to annihilate parasitic phenomena such as flare or ghosting effects.
To build this zoom, Nikon used two ED (Extra-low Dispersion) and three aspherical lens elements aiming at reducing aberrations. While the previous 24-120mm also used two ED lens elements, it had only two aspherical ones and no Nano Crystal Coat.

Combined with the constant f/4 aperture, the use of Nikon's VR II stabilization technology promises to save up to 4 shutter speeds. So although this is not really a fast lens, the addition of these two features (constant aperture and stabilization) should help you capture sharp pictures in complicated light environments
Let's jump to the tests.