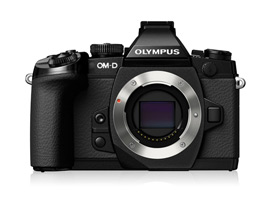 Olympus always said the OM-D was a new line of cameras, and sure enough, after the delightful E-M5 the firm announced the flagship E-M1. With a new exterior design and a long-list of improvements over the E-M5, including a 16.3-Mpix Live MOS sensor with on-chip phase detection pixels, the E-M1 is being touted not as the replacement to the E-M5 but as the successor to the firm's Four-Thirds E-5 model. Read on to see how well the new camera performed after putting it through our labs.
The OM-D E-M1 is the firm's new flagship model is to replace the E-5, rather than E-M5, which will exist alongside the new model. As a result the E-M1 features a new much larger, pro-worthy outer shell than the E-M5 and yet it has many of that camera's features that made it so popular. It has, for example, a similar 16-Mpix L-MOS sensor with the built-in 5-axis image stabilization, a high-resolution electronic viewfinder and pullout, tilting high-resolution 3-inch LCD touchscreen rear display.
One of the most significant advances though is that the image sensor includes dedicated phase-detection pixels as part of a new 37-point AF system, which promises improved performance with the firm's range of Four Thirds lenses for the E-series models (using an optional adaptor). In addition, the $1,399 E-M1 retains the 81-point contrast-detection AF system of previous models for focusing with existing MFT lenses. New features over the E-M5 include WiFi for remote triggering and image transfer, as well as 'focus peaking', True Pic VII processor with lens corrections, and 1/8000 sec top shutter speed with a 1/320 sec flash sync.
Key specifications:
16-Mpix L-MOS Four Thirds format sensor with no low-pass filter
On-sensor phase detection elements
Twin control dials (front and rear) with '2x2' dual-mode option
'5-axis' image stabilization with automatic panning detection ('S-IS Auto')
ISO 'LOW' (100 equiv) - ISO 25,600
Up to 10fps continuous shooting (6.5 fps shooting with continuous AF)
1.04M-dot 3" LCD touchscreen display - tilts 80° upwards and 50° downwards
Electronic viewfinder: 2.36M-dot LCD, 0.74x magnification (equiv.), eye sensor
Built-in Wi-Fi for remote shooting and image transfer to smartphone or tablet
Improvements over the E-M5:
True Pic VII processor, with lens corrections
1/8000 sec top shutter speed, 1/320 sec flash sync
Built-in microphone socket (rather than optional accessory adapter)
Flash X-sync socket
Built-in Wi-Fi
Focus 'peaking' display
In-camera HDR blending (two modes)