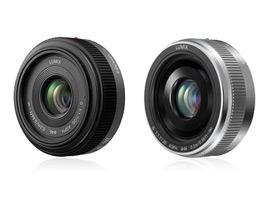 Panasonic has refreshed one its most popular and best loved lenses in its line-up, the diminutive 20mm f1.7 ASPH. Although the new model has a revamped exterior finish, the firm says the optical construction is unchanged. Although we weren't able to include the original model in our recent lens recommendations for the Olympus PEN E-P5, we thought the introduction of this new model was timely enough for us to test the two lenses side-by-side. Read on to find out if anything has changed.
Besides the small size and inherent portability of the MFT format cameras, both Panasonic and Olympus were quick to capitalize on the attraction of equally small high-quality primes. Panasonic even trumped Olympus (one of the most respected lens makers in Japan) early on and introduced a small pancake-type 'normal' lens with fast focusing, a large maximum aperture and very high image quality. That lens was the Lumix G 20mm f1.7 ASPH, and although only announced late 2009, Panasonic has already introduced its successor, the $428 Lumix G 20mm f1.7 II ASPH.
While the new lens has a revamped metallic (silver or black) finish, the firm says the optical formula remains unchanged. As with the original the new mode features seven elements in five groups with two elements using an aspherical surface for reduced chromatic aberration and distortion. Both models focus to a close 20cm, measure just 25.5mm in length and feature a 46mm filter thread. However the new model is slightly lighter at just 87g (3.07 oz), compared with the 100g (3.53 oz) of the now discontinued original.