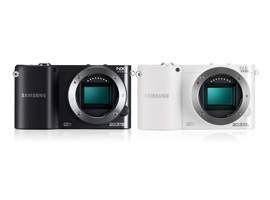 Intended as entry-level models with ease of sharing in mind the NX1100 and the NX1000 feature proprietary 20-Mpix APS-C CMOS sensors, built-in Wi-Fi and an unusual super-wide video option. Read on to find out how these two models perform.
Introduced mid 2012, the entry-level NX1000 is the firm's entry-level model featuring the firm's 20-Mpix CMOS with a wider than average ISO100-12,800 sensitivity that shoot up to 8 fps (albeit for only 8 frames).
Also unusual at this level the camera has a high-resolution 3.0-inch 921k-dot TFT LCD panel and, as part of the firm's global Smart Camera initiative, features built-in Wi-Fi connectivity with image transfer and remote viewfinder options.
Video also included some ambitious features. Apart from the expected full HD (1920 x 1080 pixels) at 30fps, the NX1000 featured an unusual super-wide (cropped) cinematic option with 1920 x 810 pixels at 24fps.
Later in the year the firm launched the NX1100, a practically identical camera. The NX1000/1100 both measure 4.6 x 2.5 x 1.5" / 114 x 63 x 37mm and weigh 0.5lb / 232 g with battery and memory card. Although the NX1100 is discontinued in some markets (particularly the US), the NX1000 is still available at $349 with 20-50mm kit lens.
Key specifications:
20.3-Mpix APS-C (23.5 x 15.7mm) CMOS Sensor
ISO 100-12,800
3.0-inch 921k-dot TFT LCD panel
Full HD 1920 x 1080 MPEG-4 / H.264 video at 30 fps, plus super-wide 1920 x 810 pixels at 24fps
8 fps burst (up to 8 shots)
Built-in Wi-Fi