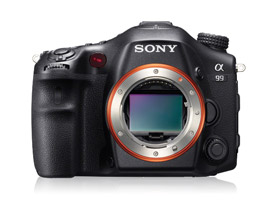 The new Sony SLT Alpha 99, Sony's first full-frame DSLR equivalent in three years, combines the company's latest and greatest 24.3-megapixel Exmor CMOS sensor with its SLT (Single Lens Translucent) technology to deliver impressive image quality combined with fast and continuous autofocus while shooting still images and videos.
When Sony released its first full-frame DSLR, the Sony Alpha 900, back in 2008, it was the highest-resolution DSLR to date and held its own when compared with competitors such as the Nikon D700 and Canon EOS 5D Mark II from the more established DSLR vendors. In 2009, Sony followed up with a lower-end full-frame model (the Sony Alpha 850) but since then has been focusing its efforts on cameras with smaller sensors, including its popular NEX line of compact interchangeable-lens hybrid cameras as well as its SLT line of cameras that utilize a stationary semi-transparent mirror rather than the flip-up mirrors in conventional SLRs.
Because there's no need for the mirror to move up and down between shots as there is with a traditional SLR, the Alpha 99 and other SLT cameras can display live-view images constantly and autofocus works quickly and continuously while images are shot rather than needing to focus between frames.
This not only helps the A99 achieve continuous shooting speeds of up to 10 fps, but it also means that the camera can produce smoother results when using autofocus while shooting video, a feature that also benefits from the A99's new dual phase-detect AF system (which combines a 19-point AF system with 11 cross sensors and a 102-point focal plane phase-detection AF sensor overlaying the main image sensor). It also means you can't have an optical viewfinder, but the A99 compensates with an impressive 2.4-million-dot OLED electronic viewfinder with 100-percent coverage. (You can read more about the Sony SLT Alpha 99's new features here.)