Pentax smc DA 18-135mm F3.5-5.6ED AL [IF] DC WR
COMPARISON SELECTION (3 selected items max.)
VIEW COMPARISON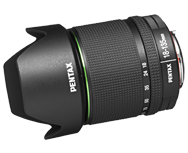 | | |
| --- | --- |
| Announced | Sep. 2010 |
| Indicative price (USD) | 459 |
| Aperture | f/ 3.5-5.6 |
| Focal range (mm) | 18-135 |
| Filter diameter (mm) | 62 |
| Max diameter (mm) | 73 |
| Mount type | Pentax KAF |
| Stabilization | No |
| AF Motor | No |
| Zoom type | Ring |
| Rotating front element | No |
| Tripod mount | No |
| Color | Black |
| Full-Time manual focus | Yes |
| Number of lenses | 13 |
| Number of groups | 11 |
| Diaphragm blades | 7 |
| Circular aperture | No |
| Length (mm) | 76 |
| Weight (gr) | 405 |
Certain fields may be left blank. They will be updated as soon as possible.
Further readings for the Pentax smc DA 18-135mm F3.5-5.6ED AL [IF] DC WR
To provide photographers with a broader perspective about mobiles, lenses and cameras, here are links to articles, reviews, and analyses of photographic equipment produced by DxOMark, renown websites, magazines or blogs.
---
Sensor Preview
|
February 16, 2015
| | |
| --- | --- |
| | Just six months after introducing the K-S1, Pentax has launched an updated model featuring a full weather-resistant shell and thankfully no flashing lights. Positioned as the world's smallest dustproof and weather-resistant DSLR for outdoor enthusiasts who want to travel light, the K-S2 continues to use the same 20.1Mp APS-C CMOS sensor as its predecessor. Let's run through the specs to see what else is in store.  |
---
Lens Recommendations
|
January 30, 2014
| | |
| --- | --- |
| | Although the Pentax K-5 II and K-5 IIs have now been replaced by the Pentax K-3, we've analyzed the two models with a range of lenses from both Pentax and third-party makers and thought the results would be of interest to our readers. The information is available online but we taken the opportunity to offer a brief overview of the best performing models. Read on to see how well the lenses perform together on the two cameras. |
---
Lens Recommendations
|
August 22, 2013
| | |
| --- | --- |
| | Announced in June this year, the K-50 is an accessibly priced environmentally sealed DSLR featuring a built-in stabilization and a 16-MPix APS-C size CMOS sensor. As Pentax has yet to introduce a full-frame DSLR to the range the K-50, like others before it, can benefit from one of the largest lens ranges designed for the smaller APS-C sensor. The result is an appealing and unsurpassed range of compact and highly portable primes and zooms. We have analyzed the optical properties of 28 different models in total from Pentax as well as third-party makers, mounted on the new K-50, to help you in your selection either when buying new for the first time or when simply choosing which lens to take with you on your next shoot. |