90

89

88

87

86

85

84

83

82

81

80

79

78

77

76

75

74

73

72

70

69

68

67

66

61

59

57

50
Sony Xperia Z: "Chasseur d'Images" review
By Chasseur d'Images -
Friday August 02 2013
Mobile Review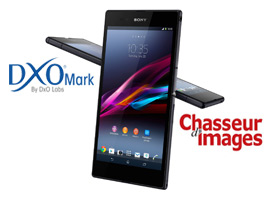 Chasseur d'Images, the first European magazine dedicated to photography, has chosen to rely on DxOMark Mobile technology for its new section devoted to smartphone image quality measurement. In its July issue, the magazine reviewed the water-resistant Sony Xperia Z incorporating the report with measurement data supplied by the laboratories at DxOMark.
Apple and Samsung give much of trouble to their competitors who, to get a place bathing in the Sun, are forced to find "different" ideas. With Xperia Z, Sony settled on Android, a big, excellent 5-inch screen and uniquely, some resistance to the elements. This gives an attractive, innovative and endearing product which is available in multiple versions.
13 megapixel photos
Autofocus
Face and smile recognition
Panorama assist mode
14 images/sec burst mode
Full-HD Video
Image geotagging
1,920 x 1,080 TFT display
Water resistant
In a phone store I recently overheard a charming sales assistant trying to calm a furious customer after refusing to accept a returned iPhone that showed signs of corrosion. The device was only a few months old but a prolonged stay in a chest pocket proved fatal to it. While listening to the explanations by embarrassed sales-girl, my eyes rested on a Sony flyer showing a Xperia diving into the water and I suddenly understood the cleverness of a splash proof design for a phone whose destiny is to accompany his master for several months (I dare not speak in years!) to share with him... both in the good times and the hard knocks.
Apple has added shock and moisture detectors in its iPhone, to indicate if the phone has been used carefully... Sony opts for the opposite solution and offers robustness. What a difference in mindset! Its Xperia Z meets both the IP55 and IP57 rating, resists dust, immersion in water up to 1 meter and can be washed under a tap if it is dirty. In its PR material, Sony says it has a hardened glass screen and a frame made of polyamide reinforced with glass fiber, which should ensure its survival in case of fall. These arguments sound valid to those who have already seen their phone plunge into toilets (don't laugh, it is frequent) or simply to the floor. It remains to be seen how realistic these claims are and how Sony will handle the inevitable after-sales issues.
That's because in reviewing the Xperia Z, one discovers several weak points: If only one of the three small doors protecting the Sim card, the memory card or the micro-USB connector is not fully closed, the seal is no longer guaranteed! In short, every grain of sand on the tiny O-rings that protects each panel of the Xperia may let water in and while knowing it's more resistant than others, we do not advise anyone to willingly mishandle it.