[CES 2012] Fujifilm X-Pro1 and its revolutionary sensor revealed
Friday January 13 2012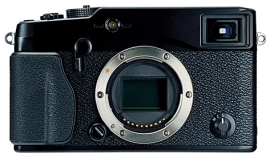 When Fujifilm launched the X100, they certainly didn't expect it to raise so much interest among photography enthusiasts. Earlier this week, they announced the Fujifilm XPro1, which more specifically targets this demanding market.
One of the most visible changes follows a mainstream current trend: an interchangeable lens. To offer this, Fuji is also launching a range of 3 all-electronic prime lenses: a 18mm f/2 wide-angle, a 35mm f/1.4, and a 60mm f/2.4 macro-telephoto, equivalent respectively to a 28mm, a 50mm, and a 90mm. The X-Pro1 also has the optical/electronic viewfinder of the X100, and a set of magnifiers comes into play to match the field of view of the different lens focals. For the 60mm, the viewfinder displays how the image will be framed in your photo.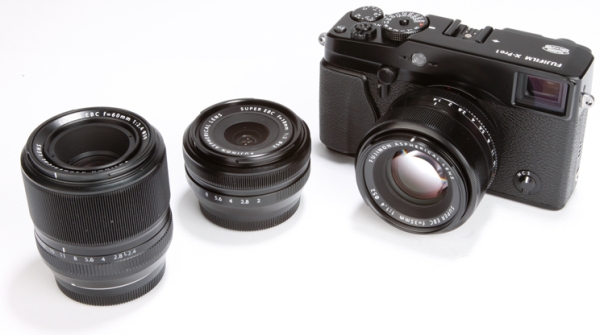 With the X-Pro1, Fuji launches a new generation of 16-Mpix APS-C sensor: the X-Trans CMOS. The innovation here is that instead of being grouped in 2x2 matrices (Bayer) with one red, one blue, and two green pixels, the pixels are grouped in 6x6 matrices with a slight majority of green pixels.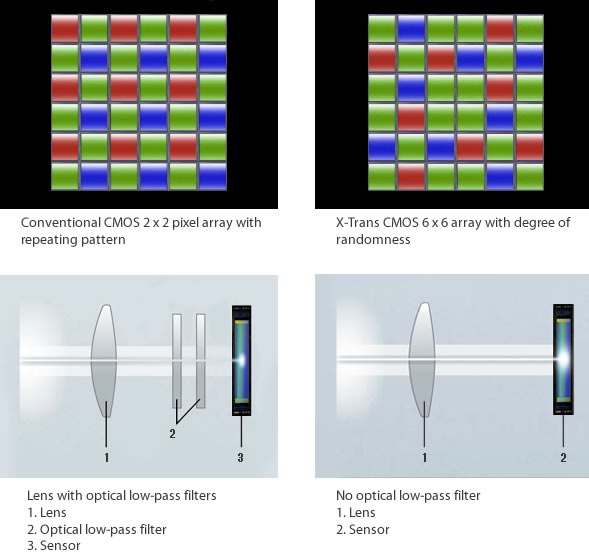 The goal of this new structure is to position the pixels more irregularly and thus avoid the moiré patterns that occur because of too-regular structure of conventional sensors. By doing this, Fuji was able to design the X-Pro1 without any optical low-pass (anti-aliasing) filters. Fuji claims that this gives the X-Pro1 better resolution than its competitors without creating moiré. It will be interesting to see if the moiré really is avoided and if the XPro1's resolution really is significantly better than its competitors'.
Further readings for the [CES 2012] Fujifilm X-Pro1 and its revolutionary sensor revealed
To provide photographers with a broader perspective about mobiles, lenses and cameras, here are links to articles, reviews, and analyses of photographic equipment produced by DxOMark, renown websites, magazines or blogs.
---
Sensor Review
|
April 18, 2011
High Tech in a Classic Package: The Hybrid Viewfinder

The X100 has been one of the most anticipated compact cameras. Although it looks like an old rangefinder, it is a very modern device. Its most obvious innovation is its hybrid viewfinder that combines both an optical viewfinder and an electronic one, projecting the information from the electronic viewfinder onto the optical one. And this really works!
---