Canon EF 24-85mm f/3.5-4.5 USM
Tuesday March 13 2012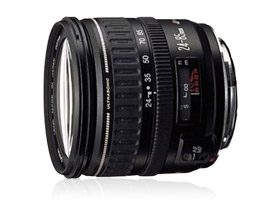 Today we take a look at a versatile old lens, the low-price trans-standard Canon EF 24-85mm f/3.5-4.5 USM, which first appeared in 1996. Despite its age, this full-field lens is still very useful and will allow you to take many different kinds of shots, from landscape to portrait.
So far no manufacturer has produced any more lenses for full frame in this low-cost, trans-standard category, which is a real shame, because despite a significant loss of brightness with respect to 24-70mm f/2.8, these lenses have provided an interesting focal range at a reasonable price.
Let's first look at the DxOMark scores for this Canon lens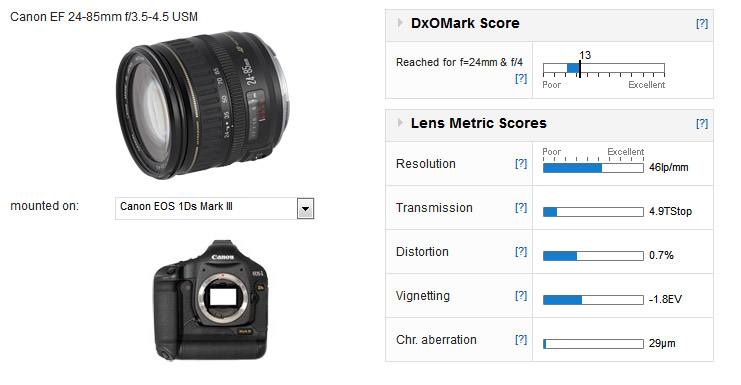 | | |
| --- | --- |
| The pluses | The minuses |
| Its resolution (46lp/mm) | Poor transmission (4.9Tstop) |
| Its quality-to-price ratio | Significant distortion (0.7%) |
| Its multi-purpose [versatile] focal range | Significant vignetting (–1.8EV) |
| | Very strong chromatic aberrations |
Comparison
Let's take a look at how this lens does against equivalent zooms that we can find coupled with APS-C sensors.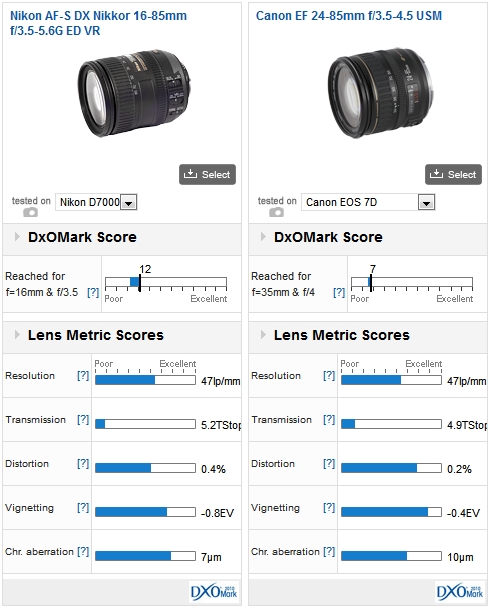 An identical score for resolution (47lp/mm), but the Nikon remains slightly superior in the field.
The Canon is slightly brighter (4.9 T-stop vs 5.2 T-stop for the Nikon).
There is very little vignetting for either of these 2 lenses, but the Canon takes the lead with only –0.4EV. As for the Nikon, be aware that vignetting is significant at 16mm f/3.5.
Both lenses control chromatic aberrations fairly well: 7µm for the Nikon vs 10µm for the Canon.
For more results, follow this link: Nikon AF-S DX Nikkor 16-85mm f/3.5-5.6G ED VR
Conclusion
The Canon EF 24-85mm f/3.5-4.5 USM lens is still a good choice for amateur photographers who want to pamper themselves with a lens having a focal range close to 24-70mm … and who don't want to spend what it would take to buy a famous L-series lens.
With its versatile focal range and reasonable resolution, this lens will attract photographers desiring a low-cost, trans-standard zoom. (Note, however, that this lens is no longer commercially available, but may be found for sale or trade on various photo equipment and other websites.)
Further readings for the Canon EF 24-85mm f/3.5-4.5 USM
To provide photographers with a broader perspective about mobiles, lenses and cameras, here are links to articles, reviews, and analyses of photographic equipment produced by DxOMark, renown websites, magazines or blogs.
---
Comments
24-85mm performance

I do not understand or accept the sharpness, nor the vignetting rating for this lens, which I used for years on 1Ds and 1Ds MkII bodies. I had a good sample adjusted for focus errors by Canon, and it was as sharp as the old 24-70mm lens, without the dehumanizing curvature of field of that implement. It was worst at 35mm where at F5.6 the border areas even centre-stage were not exactly unsharp, but distorted slightly. Other than that, it is, or mine was, an excellent machine-much better than the current AFS VR and/or G Nikkor copies.
Its only limit was speed, and the border issue at 35mm and softer sides wide open at 85mm, and a lesser contrast than has the old and excellent 28-70mm f3.5-4.5 II Eos lens, whose resolution and contrast is higher, but only by a little bit.
This lens can certainly manage more than your claimed 6Mp resolution at the longer focal lengths (all that yellow in the "sharpness" page baffles me.

As a newcomer, am I misreading the charts? I was looking at the same sharpness chats for the 17-55mm f2.8 Nikkor, which you appear to be claiming has around 1-5 Megapixel resolution on a Nikon 7100!! Your chart shows a thick yellow band going into the red all around the 17-55mm Nikkor's sharpness at anything anyone buys the lens for, which disturbs me. Do you not manually focus for your tests, and is this focus error? as noone buys them for 1-5MP resolution.

There are dozens of these lenses here now in the UK secondhand, and is this true and why, or are people getting rid of them because they genuinely have almost no resolution at all, at the longer focal lengths?
Will I be returning the one I have on order then. How can it have such a dreadful performance, when surely it should be as good as it gets??



Reply
---