Canon EOS 1DX: Canon announces its new flagship camera
Tuesday October 18 2011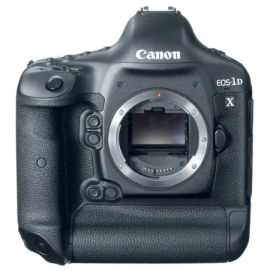 After months of rumors swirling about, today Canon finally launched its new flagship DSLR: the Canon EOS 1D X. This new camera will replace not just the EOS 1Ds but also all EOS 1D current models... and will bring the APS-H sensor size to an end.
This new high-end camera is based on an 18MPix CMOS full-frame sensor and can reach a shooting speed of 14 fps (12 fps with auto-focus). It also features a high-precision AF system with 61 points, and 41 high-sensitivity cross-type sensors to ensure a very fast and precise auto-focus. Its 100–51,200 ISO and dual DIGIC 5 processors should ensure a low level of noise. The 1DX can even push its sensor to 204,800 ISO, the highest ISO on the market. (It will be interesting to see how good the pictures are at that ISO.) In term of metering, the 100,000-pixel RGB AE associated with the dedicated DIGIC 4 processor should help you under most lighting conditions.
The 1,040k-dot 3.2-inch LCD screen is announced as "superbly durable" and will give you a good idea of your picture results while shooting. And when shooting indoors, the 1GB ethernet connection will enable you to stream and check your photos directly on your PC or Mac.
The 1Dx also offers advanced video capabilities with full HD (1080p) and a wide range of controls such as exposure, frame rates, audio, and compression.
The Canon EOS 1D X will be available in March 2012 for the price of $6,800.
For more details, check out this page and this video by Canon showcasing the EOS 1DX:
Further readings for the Canon EOS 1DX: Canon announces its new flagship camera
To provide photographers with a broader perspective about mobiles, lenses and cameras, here are links to articles, reviews, and analyses of photographic equipment produced by DxOMark, renown websites, magazines or blogs.
---
Sensor Review
|
March 15, 2012
| | |
| --- | --- |
| | In the course of the past several weeks, both Canon and Nikon unveiled their professional digital reflex cameras for the next two years to come. With the D4, Nikon has updated a number of points in its pro camera body which cumulatively lead to an entirely new generation of SLR camera. |
---
In response to the announcement of the Canon EOS 1D X, Nikon just unveiled its new flagship camera, the Nikon D4, which replaces the D3s at the top of the Nikon DSLR line-up. This new model features impressive specs: a new 16-Mpix FX sensor with sensitivity up to 200,000 ISO, uncompressed Full HD video recording with autofocus, 11 fps burst mode, improved 51-point autofocus module, face detection, wireless control...

Let's have a closer look at these promising specs.
---
---
---
Comments
ISO performance

but this is a conspiracy against DxO ....... still denied its results ....

http://www.digitalcamerainfo.com/content/Canon-EOS-1D-X-Digital-Camera-Review/Noise-Reduction.htm


Reply
---
another denial

Opss...... another site that belies the DxO dynamic range:

http://www.digitalcamerainfo.com/content/Canon-EOS-1D-X-Digital-Camera-Review/Dynamic-Range.htm


Reply
---
you are not sincere

if you click here, and understand Italian, you can see that your assessment of the noise and dynamic range is too sbilanciat in favor of NIKON.
In Reala is better the Canon ......

http://www.reflex.it/wp-content/uploads/2012/10/Camera-TEST_Eos1Dx.pdf

http://www.reflex.it/wp-content/uploads/2012/03/Camera-TEST_Nikon-D4.pdf


Reply
---
1DX

Per coloro che la cura
mi è stata inviata una e-mail sostenendo i risultati dei test DXOMark di EOS-1D Canon X Saranno loro quelli veri ???????????
DxO punteggio: 90 DR: 12,8 Profondità colore: 24,9 bit ISO: 3296



Reply | Read all replies for this comment
First replies for this comment
---
First replies for this comment
---
Not surprised

I haven't used a high-end camera from any brand, but I know that the sensor performance from Nikon's low-end is a LOT better than what Canon's low-end offers. So I don't find the 1DX scores surprising either, but I am disappointed nevertheless because I was hoping that Canon might finally work on their sensor. Having said that, the low-light performance is something to write home about.


Reply
---
First replies for this comment
---
First replies for this comment
---
Added by

Palen

| November 02 , 2012

World exclusive.

World News, to cover sporting events, the Nikon D800 is better than the Canon 1DX. Jajajajajajajajaj.


Reply
---
Added by

Palen

| November 01 , 2012

I can not believe

If you follow the results of this page, a Nikon D5100 is better than a 5DMarkIII, and is at the same level of a 1DX or medium format cameras, is incredible, this more than a house of analysis seems the advertising company Nikon & Sony. More and more voices are raised against the results of this website. Nikon camera you use images to promote your software. Interestingly most professional photographers lining the 500px sales, and have a great reputation ignore these results and continue to use mostly Canon or HB for their customers. I am also disappointed with the fact that now you may become responsible for the analysis Dpreview.com lenses, Nikon surely be the best in reverse of what everyone already knows. Kind regards.


Reply | Read all replies for this comment
First replies for this comment
---