Canon announces a new model in its Powershot S premium compact camera line: the Powershot S100
Monday September 19 2011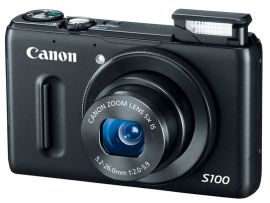 With its Powershot S line, Canon offers pocketable cameras to enthusiastic photographers. After the Powershot S90 in 2009 and the Powershot S95 in 2010, Canon now announces the new Powershot S100.
Even if this new version looks very much like the S95 (click here to compare them side-by-side), the S100 is a brand new camera in many respects. First of all, the lens was improved with a wider aperture and larger focal length range: the Powershot S100 comes with the equivalent of a 24-120 mm lens. This lens offers a fast f/2 aperture at wide-angle, along with a less impressive f/5.9 at 120mm.
The sensor itself also changed: the S100 uses a Canon 12.1 MPix "high sensitivity" CMOS sensor in a 5.5 x 7.5 mm (1/1.7") format. In combination with this sensor, the S100 gets the brand new DIGIC 5 image processor, which is supposed to be 6 times faster and offers more advanced image processing and noise reduction. Canon claims that this combination of a new image processor and a new sensor should reduce the noise in low-light conditions and increase the dynamic range. We will definitely check these claims when we get the DxOMark test results.
In addition to this effort to reduce noise, the S100's ISO range was extended up to 6400 for better low-light shooting conditions, and it was given an improved image stabilization system with no less than 7 modes for such situations as video, macro, panning, and tripod photos.
Canon also announced a pretty nice continuous shooting speed for a compact camera: up to 2.3 fps, compared to the 0.9 fps of the S95.
Some nice additional improvements of the Powershot S100 are:
A full HD movie recording capacity at 24 fps
A white balance system with different areas to compensate for mixed lighting
A built-in GPS unit that can keep track of your movements even in between photos
All of these new features come with one caveat, however: compared to the S95, the S100's battery life is very short. You'll want to keep an extra battery with you if you're planning on shooting more than a couple hundred photos per charge.
Further readings for the Canon announces a new model in its Powershot S premium compact camera line: the Powershot S100
To provide photographers with a broader perspective about mobiles, lenses and cameras, here are links to articles, reviews, and analyses of photographic equipment produced by DxOMark, renown websites, magazines or blogs.
---
Sensor Review
|
June 06, 2012
| | |
| --- | --- |
| | A "premium" digital camera, the Sony DSC-RX100 is not lacking in persuasiveness: a larger-than-usual CMOS sensor; a bright, high-quality wide-angle (f1/8) lens; a more compact size than all other expert APNs on the market; and a weight that is only half that of the Canon PowerShot G1 X. All complemented by the latest Sony image technologies, such as 50p video, rapid burst shooting, integrated HDR, shooting at night without a tripod, and a brand-new "WhiteMagic" display screen. Does this mean that the Cyber-shot DSC-RX100 will become the new camera of reference among expert compacts? |
---
Sensor Review
|
December 21, 2011
| | |
| --- | --- |
| | Announced in June 2011, the Panasonic Lumix DMC GF3 will be of interest to photographers who can afford an easy-to-use compact camera with interchangeable lenses and an image quality superior to that of other compact cameras (such as the Canon Powershot S100). |
---
---
---
Comments
Added by

Navid

| December 12 , 2011

Inappropriate Comparison

Merely because S100 is that good that receives a score so close to Nikon J/V 1, is not an acceptable reason to compare them. Sensor wise, canon S100 has a sensor of 43mm² while this parameter for Nikon J/V 1 is almost triple at about 123mm². Canon S100 is solely a magnificent camera and based on dependable comparison provided by DxO Mark, there isn't even one camera with this size of sensor which can deliver such an image quality. In my understanding Pentax Q would be a proper rival which has a bit smaller sensor and received a respectable score of 47.


Reply
---
Added by

ozone51

| December 09 , 2011

Wrong market analysis

The real big question is: do you want to buy a much bigger camera that is not very much better in term of picture quality, like the Nikon J1 and V1. The picture quality / size ratio of the Canon S100 is really great. It's just 5 point behind the Nikon camera but easely fit in the pocket of a jacket. Can't say the same of all the interchable-lens camera.


Reply
---