DxOMark 2011 release: What's new?
Tuesday November 23 2010
On November 23, as we celebrate its 2nd anniversary, we are launching the new DxOMark 2011, with many new features and more than 200 new lens/camera combinations!
A new ranking system for lenses based on users' input;
Easier navigation and information access from home to measurement data pages,
200+ new combinations of lens/camera to reach about 1,000 available on the site!,
and a very significant increase of our testing capacity to turn data for latest camera and lens models right when they reach the marketplace
with these significant new features and improvements we, at DxO Labs, further emphase our dedication to make DxOMark 2011 the most reliable and updated source of RAW-based image quality data for digital cameras and lenses.
Revised scoring and ranking system for lenses (with camera)
We have slightly modified our lens scoring and ranking scale to take into account some of the comments we have received.
Site visitors were looking for a lens/camera scoring for a more challenging photographic use case than the one we initially chose (5,000 lux, 1/125 sec.), one that gives lens performance at widest aperture more weight. Visitors were also expecting to view the variability of the lens performance across its focal range.
It makes a lot of sense to view both the lens optimum performance as well as how it behaves over its entire focal range. A lens that demonstrates good performance only at specific focal lengths while having poor performance at the shortest and/or longest focal lengths should not have a high ranking. This means that we must show both the peak value and the range for each lens.
Based on these comments, we revised our Peak Score (and renamed it as "DxOMark Score") and took into account more difficult lighting conditions (150 lux illumination and 1/60 sec., corresponding to low-light indoor exposure conditions). Under such conditions, lenses featuring high f numbers can really make a difference (so long as their optical performance stays high at widest apertures). The new DxOMark Score has the same meaning and is computed the same way as the former Peak Score, but the evaluation is based on different lighting conditions.
We also redesigned the scoring gauge to show both the DxOMark Score and the homogeneity (or non-homogeneity) over the lens focal range at the same time. At a glance, visitors can see how a lens (with its camera body—remember that DxOMark score depends on the camera body as well as on the lens) best performs and how its performance holds up across the focal range.

Example of the new scoring gauge: the diamond shows optimum performance and the length of the bar shows non-homogeneity of the lens performance. The bottom example has a much worse homogeneity that the one on top.
For completeness, we also report the map of the DxOMark Score values over the focal range and aperture range in a dedicated tab of the lens measurement page, "DxOMark Score," as shown below: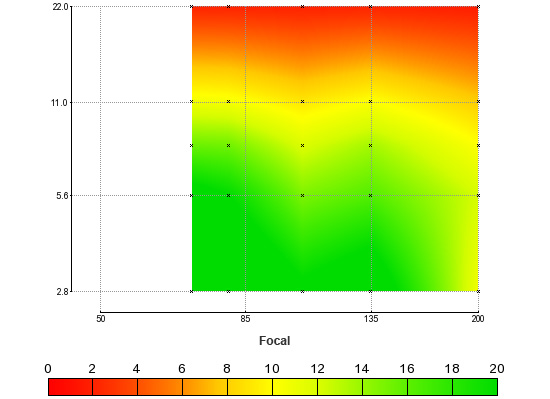 Example of a DxOMark score map showing the variation of the image quality performance of a lens/camera across its focal and aperture ranges. The score ranges from red to green, corresponding respectively to poor and excellent.
Lenses are now ranked either using the DxOMark Score or using one of the five Optical Metric Scores (resolution, distortion, vignetting, transmission or chromatic aberrations). We have eliminated the rankings per use cases as such rankings were somewhat misleading.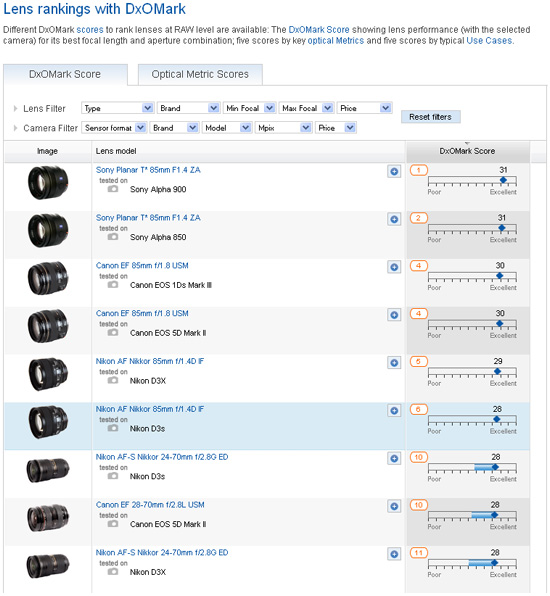 Example of a lens ranking page with the new scoring gauge showing DxOMark Score and image quality performance range.
New Home
We are simplifying the Home entries to the DxOMark camera and lens database. We still have a top banner to display the latest DxOMark results and product reviews from the Press based on DxOMark data. Right below we now have two separate sections, one for lenses and one for cameras, each proposing the same paths to access measurement data and scores as follows:
View the whole list of cameras/lenses ranked against corresponding scores.
View the complete list of cameras/lenses available on DxOMark sorted by brands.
Compare up to three cameras/lenses.
Also please note that the "Your selection" button (selection basket for comparison) has been moved and made more visible: It is now in the tool bar just below the top banner.To add lenses or cameras while browsing through the site just click on the

button next to a lens or camera or click the

button. Then, when you click "Your selection," you will view all the cameras and lenses you have selected, and you can click to compare or to view measurement data for the selection.
Revised Lens measurement page
The layout of the overview page has been changed to highlight the camera body on which the lens is mounted (again, this is very important as optics performance changes significantly depending on the camera body), and the new DxOMark Score.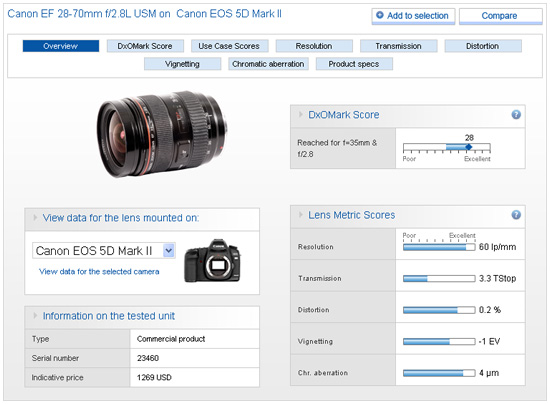 Example of the new Overview tab of a lens measurement page.
The new DxOMark Score is shown with the corresponding focal length and aperture.
In a dedicated tab "Use Case Scores" the 5 Use Case star-based Scores are provided (definitions of Use Case and scoring system have not changed). A new weighting system enables scoring lens/camera combinations for more Use Cases (travel, portrait, sports, reportage and landscape). Some users commented that we were not scoring lenses for certain use cases, and others questioned certain categorizations. In response, we have broadened the use case limits to include more lenses across all categories.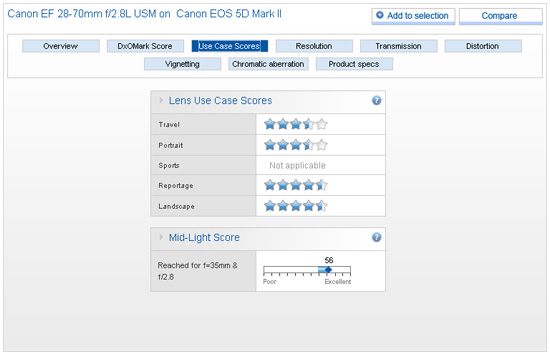 Example of star-based use case scores for a lens.
Lens manufacturer specifications are shown in a dedicated tab. See example below: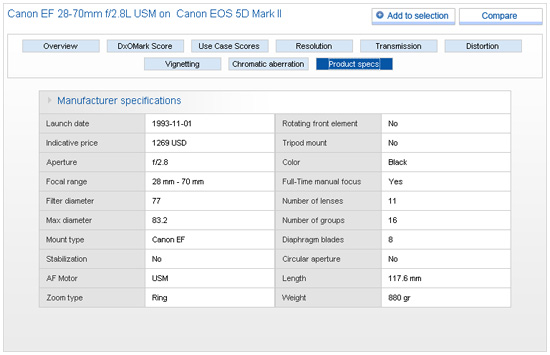 Example of lens specification tab.
Revised Camera/sensor measurement page
The main change we bring to this page is providing a list of compatible lenses available on DxOMark for a given camera body. Users can browse the list and click to view the measurement details of the corresponding lens with a given body, as shown below: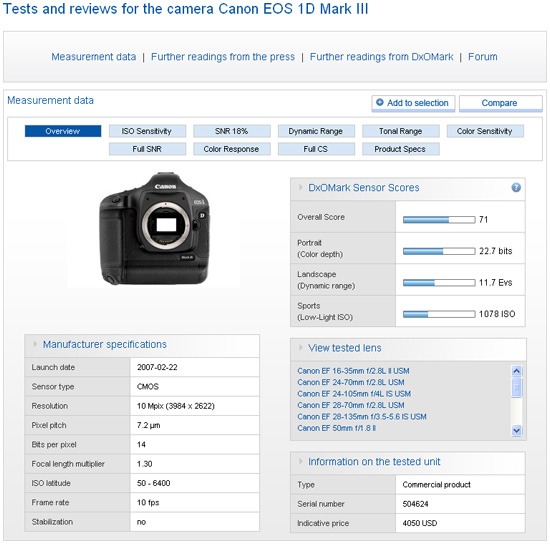 Example of a camera body measurement page showing the list of compatible lenses available on DxOMark.
Finally here is the list of the new lenses available for the release of DxOMark 2011, each lens is measured on many camera bodies providing more than 200 new combinations availabe on the site.
Nikon AF-S Nikkor 24mm f/1.4G ED
Sigma 70-300mm F4-5.6 APO-M DG Macro Canon
Sigma 70-300mm F4-5.6 APO-M DG Macro Nikon
Pentax smc PENTAX DA 55-300mm F4-5.8 ED
Pentax smc Pentax DA 18-250mm F3.5-6.3 ED AL [IF]
Canon EF 70-200mm f/4L IS USM
Nikon AF-S VR Zoom-Nikkor 70-300mm f/4.5-5.6G IF-ED
Nikon AF-S VR Micro-Nikkor 105mm f/2.8G IF-ED
Sony 100mm F2.8 Macro
Canon EF 70-300mm f/4-5.6 IS USM
Canon EF-S 18-55mm f/3.5-5.6 II USM
Nikon AF-S DX Zoom-Nikkor 55-200mm f/4-5.6G ED
Pentax smc PENTAX DA 16-45mm F4 ED AL
Sigma 70-200mm F2.8 EX DG APO HSM Nikon
Sigma 70-200mm F2.8 EX DG APO HSM Canon
Canon EF 300mm f/4L IS USM
Canon EF 75-300mm f/4-5.6 IS USM
Canon EF 70-200mm f/2.8L USM
Canon EF 28-105mm f/3.5-4.5 USM
We hope you will find these changes useful and relevant. As always, our intent is, to continuously bring new measurements and new evaluation tools to make DxOMark the most reliable resource as possible, providing in-depth, RAW-based image quality performance measurement data for digital camera and lenses.
The DxOMark team