Fujifilm announces the FinePix X10, a new premium compact camera
Thursday September 01 2011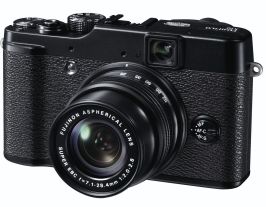 Fuji announces a second premium camera in its FinePix X series: the X10. This new compact camera is expected this autumn with a 12-megapixel sensor and a zoom lens equivalent to a 28-112mm lens at f/2-2.8.
The new Fuji FinePix X10 reuses the success factors of the first camera in the X series, the X100, with a similar vintage design, a traditional optical viewfinder, and a lightweight but robust metal and magnesium body.
One of the main differences between the X10 vs the X100 is the lens. The X10 features a newly-developed Super EBC FUJINON lens consisting of 11 glass elements in 9 groups, with 3 aspherical lenses. The result is a wide-opening lens with a maximum aperture of 2.0 to 2.8 on a focal range equivalent to 28mm to 112mm, whereas the X100 offers a prime 24mm lens.
Fuji also claims a well-controlled lens aberration and a high resolution for the FinePix X10, but let's wait for the DxOMark test results before comparing it with the X100.
The X10 is built around a 12-megapixel CMOS sensor, with Fujifilm EXR technology offering 3 modes:
HR High Resolution mode, which takes advantage of the 12-megapixel sensor for the finest details in portraits and landscapes.
DR Wide Dynamic Range mode, which offers higher dynamic range (announced up to 1600%) and delivers gradations and details in both dark and bright areas of the photo.
SN High Sensitivity and Low Noise mode, which is designed to limit noise despite high sensitivity under low-light shooting conditions. For extremely low-light conditions, the ISO setting can be pushed up to 12800.
In combination with a 49-point matrix contrast AF for high-speed auto focusing, this sensor is capable of continuous shooting up to 7 frames per second at the full 12 megapixel resolution as well as 1080p Full HD video recording.
In addition to all this, one more feature attracted our attention: the seamless 360-degree panoramic shooting feature, for easy panoramic photos.
After the success of its predecessor, the FinePix X100, this X10 looks promising, so stay tuned to DxOMark for our image quality test results in the near future.
Further readings for the Fujifilm announces the FinePix X10, a new premium compact camera
To provide photographers with a broader perspective about mobiles, lenses and cameras, here are links to articles, reviews, and analyses of photographic equipment produced by DxOMark, renown websites, magazines or blogs.
---
---
Comments
Will DXO test the new X10 sensor?

Fuji is offering X10 owners a sensor replacement repair service to address the "orb" issue. I have seen test images that indicate the issue is resolved with the new sensor. I am hoping DXO will test this new sensor to see what else has changed. I also agree with other posts here that this camera should be tested in the various EXR modes.


Reply | Read all replies for this comment
First replies for this comment
---
Re: Will DXO test the new X10 sensor?

+1. I do hope dxomark tests this new sensor.


Reply
---
Crop factor error

There is a crop factor error in the specs quote on the X10. If the sensor is 2/3" it must have a crop factor of 3.94 not 5.50. We know this because the X10 lens is 7.1mm - 28.4mm which converts to 28mm - 112mm.

If it was 5.50 you end up with 40mm. :)

Also the crop factor and sensor size are missing from the preview of the X-S1 listing as well. But we know these because it is the same sensor. Therefore 6.6mm x 8.8mm crop factor of 3.94x.

The sensor does not have stabilization but lens does so the specs of the X10 is yes to that question not no.

Finally the shutter speeds are know 30 - 1/4000.



Reply
---
Added by

Hakeem

| January 18 , 2012

Really frustrating

Why DXOMark can't test in EXR Mode HDR and SNR separately. There is no point of buying this camera if its EXR modes are not used with it! If I am buying that camera again, it will be for these special modes on EXR sensor.


Reply
---
Added by

hoodlum

| January 17 , 2012

HR mode was tested

You can tell by comparing the Print vs Screen modes. The print mode results are scaled to 8mp for all sensors. The screen mode is the per pixel results.

All recent sensor results drop when going from Print to Screen mode as they have more than 8mp. The X10 was no exception so that shows the test was done at 12mp (HR). If one of the EXR 6mp modes had been used then the results would have improved when going from Print to Screen.

I too wished they had test the 6mp DR400 mode for this sensor. They can easily manually select it under Program mode by changing the Image Size and the DR. Then we could compare the 6mp vs 12mp results.


Reply
---
Added by

darrask

| January 17 , 2012

SN, SR or HR?

Very well, the X10 beats other compacts. But how were the scores calculated? Best SNR is achieved in 6MP SN more, and best dynamic range is obtained in 6MP SR score.
Though it is quite surprising there is no word on this! Not even an explanation how the sensor works, only the layout is shown.


Reply
---