Leica launches the M9-P a full-format digital camera
Friday July 08 2011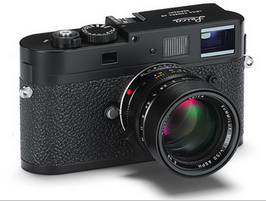 Leica, the reputed German camera maker has launched the M9-P camera, equipped with a high-resolution 24 x 36 mm 18-megapixel CCD image sensor that enables the capture of the full 35-mm format.
This camera has the added value of a legacy approach: being fully-compatible with all the M series lenses which were originally built for film photography cameras. Leica made this possible by having the full-frame sensor cover the same angle of view that these lenses were built to provide.
In spite of the large sensor Leica has conserved the compact form factor of the Leica M8 and M8.2 making it the "smallest full-format digital system" camera.
What is the difference between the M9 and the M9-P?
While claiming that the image quality and the performance between these models is the same, Leica has let go of their trademark red dot logo on the front and offer instead a logo-gram at the top of the camera body (which you can see on the picture).
Also the newer model boasts an "almost unbreakable sapphire crystal cover for its LCD monitor display".
Stay tuned for the upcoming image quality review of the Leica M9-P on DxOMark.
Further readings for the Leica launches the M9-P a full-format digital camera
To provide photographers with a broader perspective about mobiles, lenses and cameras, here are links to articles, reviews, and analyses of photographic equipment produced by DxOMark, renown websites, magazines or blogs.
---
Sensor Review
|
March 22, 2010
| | |
| --- | --- |
| | Launched in September 2009, the Leica M9 is the first full-frame (24x36mm) rangefinder camera provided by the famous German brand. For its top of the line camera, Leica provides a new 18 Mpix CCD sensor. It is important to note that Leica is the only brand that still makes cameras with CCD sensors; all other main full-frame cameras have CMOS sensors. |
---