Panasonic announces the Lumix DMC-GF5
Thursday April 05 2012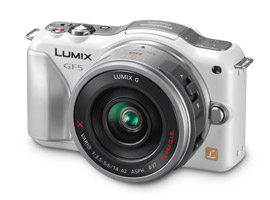 Today Panasonic unveiled the successor to the DMC-GF3. Contrary to what you might expect, it's not called the DMC-GF4, but the Lumix DMC-GF5. Indeed, in Japanese culture, the number four is thought to cause bad luck because it is pronounced the same as the word for death (shi).
This new light-weight (225g) and very compact amateur hybrid camera features an optimized 12-megapixel sensor, Full HD video recording, a better-designed touchscreen, a new graphical user interface, ultra-rapid AF, etc.
Further readings for the Panasonic announces the Lumix DMC-GF5
To provide photographers with a broader perspective about mobiles, lenses and cameras, here are links to articles, reviews, and analyses of photographic equipment produced by DxOMark, renown websites, magazines or blogs.
---
Sensor Preview
|
April 05, 2012
| | |
| --- | --- |
| | The Lumix DMC-GF5 is a new light-weight (225g) and very compact amateur hybrid camera. It features a 12-megapixel sensor, Full HD video recording, a better-designed touchscreen, a new graphical user interface, ultra-rapid AF, etc. |
---
Comments
First replies for this comment
---
Re: My first comment and it's to correct grammar

Should be, "My first comment, and it's to correct grammar". However, some spell checkers will still mark it as a fragment.


Reply
---
Yay.

Yay. Yet another iteration of the same damned camera. Really pushing boundaries there, eh Panasonic?


Reply
---