Pentax announces its first hybrid APS-C camera: the Pentax K-01
Thursday February 02 2012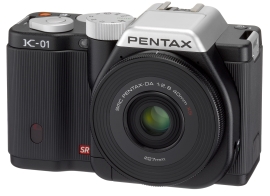 Following the hybrid camera trend and after the limited success of the Pentax Q, Pentax is announcing today a new compact camera with interchangeable lenses, the Pentax K-01.
Probably looking to target savvier photographers, the approach of this new Pentax is very different than for the Q, with a much larger APS-C sensor and the use of the existing K mount.
The choice of the K mount will make the K-01 compatible with a large range of lenses directly at launch, whereas the Sony NEXs and the Nikon 1 J1 & V1 offered only a very limited number of brand-new lenses at release. But the K mount design requires a large flange focal distance compared to lenses designed especially for hybrid cameras. This said, the K-01 is still very compact when coupled with its 40mm F2.8 kit lens.
Overall, the use of the K mount certainly makes the K-01 slightly larger than it could have been with a specific mount. For example, the K-01 is larger in every dimension than the Sony NEX-7 (also an APS-C): 120 x 67 x 43 mm (NEX-7) vs 121 × 79 × 59mm (K-01).
In term of its sensor, the K-01 features a comfortable APS-C sensor such as that for the Sony NEX series. So we can expect a pretty good image quality, especially if the sensor is as good as the Pentax K5's, one of the best APS-Cs in our rankings. Another similarity with the K5 is the sensor shift stabilization system, which is a premiere for a hybrid APS-C and can help you avoid pushing the ISO setting and creating unpleasant noise in low-light conditions.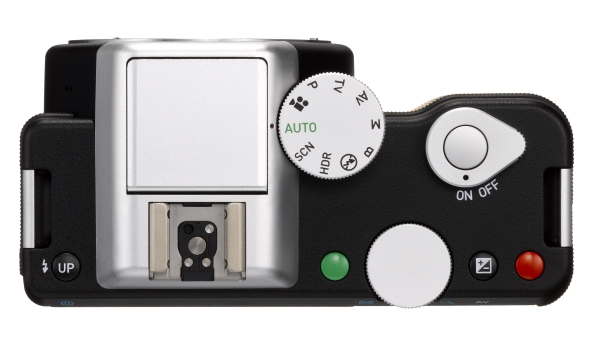 One last thing: in terms of usability, the K-01 seems to offer a reasonable number of controls that are directly accessible through buttons and wheels. But the total absence of a viewfinder is potentially a show-stopper for certain serious photographers, who might otherwise have been interested in this camera.
Overall, this new hybrid camera by Pentax seems much better armed than the Pentax Q in term of image quality, and we are really looking forward to getting a production sample in our lab to compare it with its competitors.
Further readings for the Pentax announces its first hybrid APS-C camera: the Pentax K-01
To provide photographers with a broader perspective about mobiles, lenses and cameras, here are links to articles, reviews, and analyses of photographic equipment produced by DxOMark, renown websites, magazines or blogs.
---
| | |
| --- | --- |
| | The Pentax K01, Pentax's first serious hybrid, turns in a great performance, arriving in second place in its category. All of the results are available here: Pentax K-01. |
---
Sensor Review
|
September 29, 2011
| | |
| --- | --- |
| | It's rare in the world of photography for a manufacturer to come up with an entirely new product line from scratch, and it's equally rare for a famous manufacturer such as Nikon (the world market leader) to offer a new lens mount (Nikon CX). This makes the launch of the Nikon 1 line (Nikon J1 and Nikon V1) a major event in photography this fall. |
---
---
---
---
---
Comments
Added by

tiorted

| January 27 , 2013

"smoothed"

Please, explain to me what does "smoothed" mean (In measurments at iso 3200 and higher). Is that some kind of noise reduction, that affects raw files? Maybe i can read about this somewhere?


Reply | Read all replies for this comment
First replies for this comment
---
DR-greater than 12ev?

Sorry if this is a dumb question, but how can a sensor with 12bit ADC have more than 12ev of dynamic range in screen view? It seems like quantization noise alone should limit the dynamic range to 12ev. I can see how print view would add a half stop of range since in this case you averaging about 2 pixels to make one, so noise is sqrt2/2 of what is was before normalization. Anyway, if someone could explain how this 12bit sensor can have more than 12ev in screen view, it would be appreciated!


Reply | Read all replies for this comment
First replies for this comment
---
Added by

dosdan

| February 02 , 2012

DR: K-01 vs K-5

The K-01 has 12-bit raw. So it's DR figure will probably not be at good as the K-5 at ISO100.

http://www.pentaxforums.com/forums/attachments/pentax-k-01-forum/116192d1328077886-official-pentax-k-01-specifications-revelead-pentaxk-01specs.pdf

But in the real world, lens flare/glare will probably be the limiter of DR performance, not the sensor/PGA/ADC.

Dan.


Reply
---