Pentax's new pancake lens falls flat
Thursday June 07 2012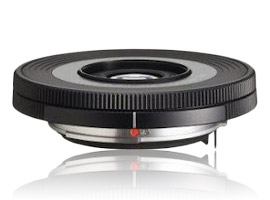 The new lightweight smc Pentax-DA 40mm f/2.8 XS strives to be a versatile weapon in a photographer's arsenal of lenses. But the dainty lens, weighing only 51 grams and measuring a slim 9mm in thickness, needs a little more beef – at least that's what DxOMark determined after putting the lens' optics through our rigorous tests.
World renowned industrial designer Marc Newson threw his name and his imagination behind one of Pentax's latest lenses. Newson's twist on the exterior of the smc Pentax-DA 40mm f/2.8 XS lens has given it the appearance of a black poker chip.
But Pentax's gamble with the XS redesign didn't extend to the optics found inside its new lens. That was our conclusion during our DxOMark testing, where we discovered there was just a marginal improvement in the XS from its eight-year-old predecessor – the smc Pentax DA 40mm f/2.8 Limited.
Analysis: smc Pentax-DA 40mm f/2.8 XS lens performance using Pentax K-5
The ultra-compact and circular XS lens, weighing a dainty 51 grams and measuring a slim 9mm in thickness, scored only 12 points in our DxOMark scale (see below for full score results) when tested using the Pentax K-5, a 16.3-megapixel digital SLR.
Despite its weak score, the lens succeeded at:
Limiting distortion.
Vignetting – an effect that darkens or reduces saturation at the edges of a photograph – remained low.
The Pentax-DA 40mm f/2.8 XS struggled with:
Visible chromatic aberration – an unflattering effect that creates blurring and color fringing, especially where dark and bright points meet in a picture.
Softened sharpness and reduced resolution at the center and corners of images when tested at aperture f/2.8. This defect was mitigated when the aperture was set to f/4 and above – it was here that our scientists observed improved image resolution.

Above are resolution maps for the Pentax smc DA 40mm f/2.8 XS mounted on a Pentax K5. Tested at 40mm focal length and aperture f/2.8 (left), f/4 (center), and f/5.6 (right) you can observe the lens' resolution begins to improve at aperture f/4 and higher.
Head-to-Head against the smc Pentax-DA 40mm f/2.8 Limited
The XS lens scored only one-point higher than its predecessor. This is disappointing when you consider Pentax had about eight years to improve the shortcomings of the smc Pentax DA 40mm f/2.8 Limited.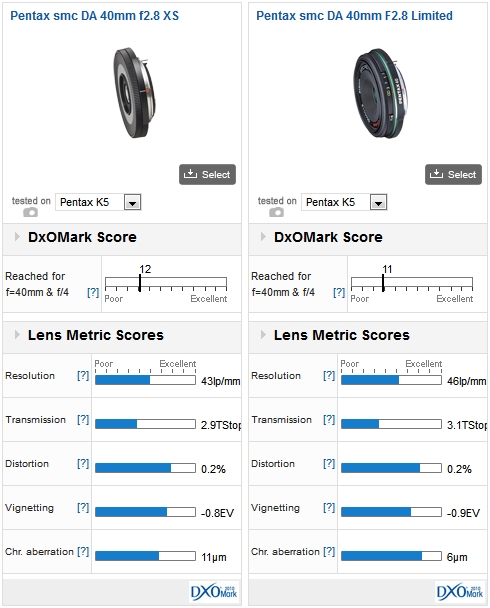 When comparing image and optics quality against the Limited, the XS was tested as having slightly better brightness – improving about 0.2 T-stop over its older sibling.
Additional strengths of the XS over the Limited include:
The f/2.8 XS is a better value, costing about $250.00 (US). This is nearly half the price of its older sibling.
The XS is more lightweight – weighing just 51-grams, and nearly two times lighter than the Limited.
Pentax's newest 40mm lens is also more compact: the XS is 9.14mm thick compared to the Limited, which is 15mm.
The one weakness of the XS compared to the Limited is its resolution.
The Limited has better resolution in the field at aperture f/2.8.
Further readings for the Pentax's new pancake lens falls flat
To provide photographers with a broader perspective about mobiles, lenses and cameras, here are links to articles, reviews, and analyses of photographic equipment produced by DxOMark, renown websites, magazines or blogs.
---
Lens Review
|
March 13, 2012
| | |
| --- | --- |
| | Here is a new series featuring the results of Pentax prime lenses mounted on the compatible camera with the best resolution thus far, the Pentax K5.  (But as usual, you can consult DxOMark to see the results for these lenses when mounted on other compatible camera bodies, such as the Pentax K7 or Km.) |
---
---
Comments
Added by

buttons

| September 03 , 2013

40mm F2.8 XS

I got this lens with my K01 and have been extremely pleased with it. Its allowed my K01 to fit in a coat pocket and with the camera set to AV, F2.8, auto iso 100-6400 it takes excellent pictures for the price. I have a picture of my GTO that i took and printed 13x19 and its just stunning (though after see it in print i did slightly over do the "punchy-ness"

http://thetiffs.smugmug.com/Hobbies/Pentax-K01-tests/i-vX4v9P7/0/X2/GTO322-X2.jpg


Reply
---
Added by

Class A

| October 28 , 2012

DxOMark Lens Score is Broken

The original DA 40/2.8 has better resolution and performs much better regarding CA. Yet, the new XS version gets a better DxOMark Score.

Who cares about T-Stops (a 3.1 vs 2.9 difference anyhow) or minute differences in vignetting?

I applaud your sensor testing and white papers, but your lens testing seems broken.

All Pentax lenses seem to be penalised for comparatively low T-Stops but I doubt that with today's high-ISO performances, this aspect of lenses really matters.


Reply
---
Passes the Real World test just fine

I received the XS last week and took hundreds of photos with it, both indoors and outdoors this past weekend. I then imported the photos into Lightroom 4, so it's possible that LR4 compensated for any lens irregularities. In any case, I saw some fantastic results in terms of color, clarity, and depth of field. The 40mm focal length was quite liberating. I'm just an enthusiast and not a pro but I love this lens. And it's so tiny there is no reason not to carry it in your bag at all times.


Reply
---
Really?

I am surprised to see such a poor account of this lens, given how well it has done in other reviews, e.g. Photozone.de:

"The Pentax SMC DA 40mm f/2.8 exhibits a quite harmonious optical performance combined with excellent build quality. It is capable to produce impressively sharp images across the frame straight from the max. aperture. Distortions are marginal and CAs are a non-issue. Vignetting is visible at f/2.8 but not a show-stopper. The bokeh (out-of-focus blur) is slightly sub-average and bokeh fringing can be an issue at very large apertures. The lens does also suffer from a focus shift when stopping down - this can have an impact in close focus scenarios".

I wonder if DXO's boffins are really as good at reviewing lenses as *real photographers* who recognise the practical applications of lenses.


Reply
---