Sigma 10-20mm F3.5 EX DC HSM: another good wide-angle Sigma lens
Friday March 30 2012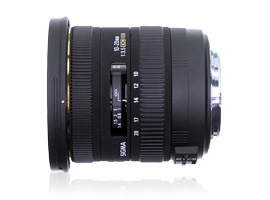 The Sigma 10-20mm F3.5 EX DC HSM, which came out in March 2009, completes Sigma's Pro (EX) line.
This very-wide-angle lens, compatible with APS-C cameras, offers a constant aperture at f/3.5 across the entirety of its focal lengths. And with its HSM (hypersonic motor), it also offers fast focusing.
We've already analyzed the Canon version as part of this review, available here: Sigma 10-20mm F3.5 EX DC HSM Canon review. On paper, this Sigma 10-20 mm f/3.5 is perfect for your indoor shots in which you have limited space to back up, or for capturing wide-open scenery during your vacation.
DxOMark results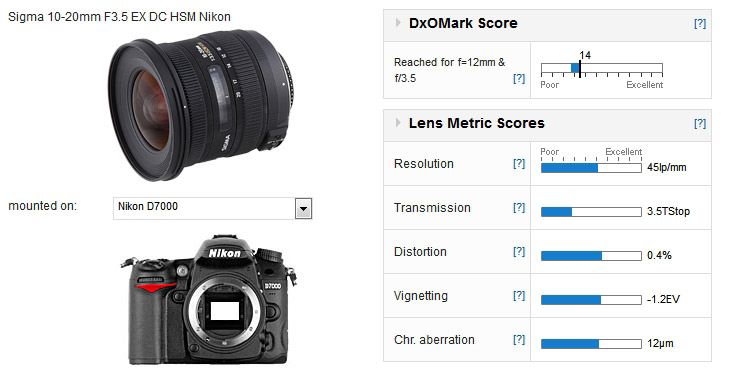 With an overall DxOMark score of 14, we can say that Sigma 10-20mm F3.5 EX DC HSM Nikon will let you shoot indoors even under relatively low-light conditions. The same Sigma 10-20 mm f/3.5 Canon lens achieves a 12 on the DxOMark scale, thus the two lenses are very close in terms of optical quality.
What is truly remarkable is the consistency of the results: you get the same quality over the entire focal range.
The good points of the Sigma 10-20mm F3.5 EX DC HSM:
Its constant aperture.
Maximum aperture is acceptable for a zoom (3.5 T-stop).
The resolution is satisfactory for this type of lens.
An average of 12µm for chromatic aberration is likewise satisfactory for this type of lens.
Its price.
The weak point of Sigma 10-20mm F3.5 EX DC HSM:
Vignetting is a bit too strong at full aperture (greater than 1 EV in the corners).
Points to remember:
At f/3.5, the resolution is a bit weak, but then improves, attaining its optimum results around f/5.6.
Its good result for distortion is very surprising for a wide-angle zoom. One might have expected a lower score, but here the Sigma does well and its distortion is on average only 0.4% over the entire zoom range.
Control of vignetting is so-so, with a loss of 1.2 EV. From f/5.6 onwards, the vignetting is negligeable and should pose no problems.
As for chromatic aberrations, a score of 12µm is decent. The Sigma 10-20mm F3.5 EX DC HSM is composed of low-dispersion glass elements that provide a reasonable correction for this problem.
Comparison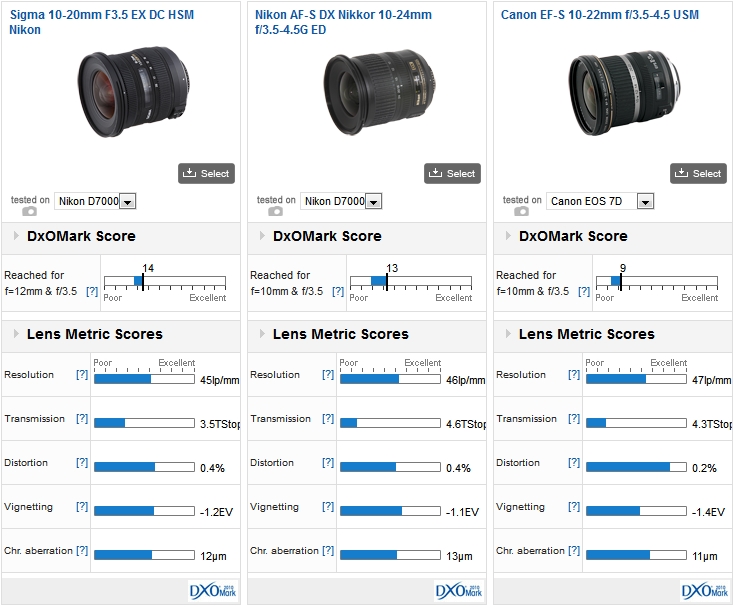 The Sigma's results are identical to and sometimes even slightly better than those of the Nikon AF-S DX Nikkor 10-24mm f/3.5-4.5G ED and the Canon EF-S 10-22mm f/3.5-4.5 USM.
Conclusion
Overall, this wide-angle zoom has a very good quality-to-price ratio. With its brightness and consistent quality all across the zoom range, this is a great choice for those looking for an ideal APS-C wide-angle lens.
Further readings for the Sigma 10-20mm F3.5 EX DC HSM: another good wide-angle Sigma lens
To provide photographers with a broader perspective about mobiles, lenses and cameras, here are links to articles, reviews, and analyses of photographic equipment produced by DxOMark, renown websites, magazines or blogs.
---
Lens Review
|
January 25, 2012
| | |
| --- | --- |
| | Announced at PMA 2009, the Sigma 10-20mm F3.5 EX DC HSM Canon wide-angle zoom lens features a constant f/3.5 maximum aperture (EX) and is equipped with a hypersonic motor (HSM). |
---
---
---